The German Embassy's language course programme offers everyone the chance to learn business and conversational German across all levels.
The courses, which have been operating for 10 years, are run as part of a non-profit organisation under the umbrella of the embassy.
The maximum class size for each programme is just 12 participants which allows for a personal experience.
Seven well-qualified teachers, most of whom are German, conduct a series of 14 courses, which follow the Common European Framework of Reference (CEFR) and run from level A1 to C1.
Each level is completed by doing three courses of three months each organised in terms, starting September, January, and April.
"The number of participants permitting, we try to offer courses in all levels, for children and adults," said a spokesman from the embassy.
"We guarantee to provide, in a row, the courses which make up level A1 (A1.1, A1.2, A1.3).
"Later on, for the higher levels, one-term waiting time may occur."
Successful participants receive certificates at the end of each course, and those who have completed a full level have the opportunity to sit the Goethe Certificate exam, which is an internationally recognised language certificate.
It is issued by the Goethe-Institut, the official institute for language learning and cultural exchange of the Federal Republic of Germany.
Many participants of the programmes are school students who aim to study at a German University.
There are many good reasons for studying in Germany – it is a safe country with good living conditions, universities are high-quality and they charge no or minimal fees.
However, most of them teach in German only, and it is quite a long journey to study the language up to university level.
"That's why we recommend school students to start with us at an early age," added the spokesman.
"For those under 15 years, we have a special discount, and this year we started a new programme of children's courses from the age of nine.
"Other reasons to study the language with us are for training (as doctors want to do their specialisation there), or to find work there, or to be able to better communicate with German business partners or customers.
"Many of our students, however, just come to our courses because it is an enjoyable experience, which opens access to a fascinating culture and, last but not least, makes travelling there even more fun."
Courses run with from five to 12 students and 110 students have registered this term.
Since its inception, the programme has attracted more than 2,000 participants, some of whom sign up repeatedly for continuing studies.
The vast majority of students are Bahraini but a colourful mixture of backgrounds and cultures can be expected in these classes.
The current term started on September 15 and the next will commence on January 12, but registration is open any time.
Prices, exclusive of books, are BD200 for adults, BD170 for students and BD150 for those under the age of 15.
A siblings' discount is also available.
For registration and full information, call 39365312 or email gerembcourses@gmail.com and follow @germanlanguagebahrain on Instagram.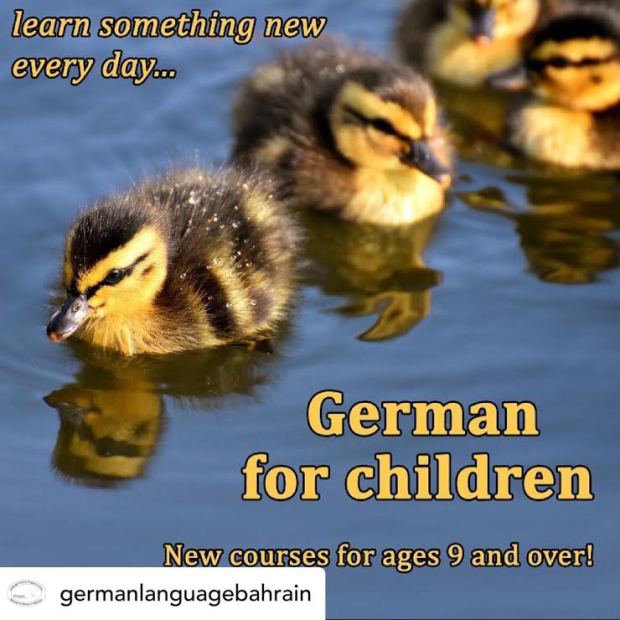 The courses are run as part of a non-profit organisation under the umbrella of the embassy