BAHRAIN fans will be looking forward to an early New Year party tonight when the national team take on Saudi Arabia in the final of the 24th Gulf Cup in Doha, starting 7pm.
But the night is surely not for the weak hearted if Bahrain's performance in the previous two matches is the right prognosis.
If Bahrain can win its maiden title, the only GCC nation yet to clinch this regional tournament, it can be certainly termed Mission Impossible accomplished.
Coach Heilo Sousa said as much yesterday after Bahrain's final training session.
"We have come a long way in this tournament. We will continue to play positively and are confident of making impossible possible."
The Portuguese strategist has indeed pulled off a coup by making the final against tremendous odds. He has used all his 23 players and successfully worked out different strategies for each match.
The Bahrainis have already punched above their weights beating Iraq, ranked 74 compared with Bahrain's 101, in a thrilling semi-final shootout 5-3 after extra-time ended 2-2.
Today, Bahrain, finalists four times in the past, face Saudi Arabia, ranked 69 and three-time winners. A victory today will take Bahrain from the pits to the pinnacle.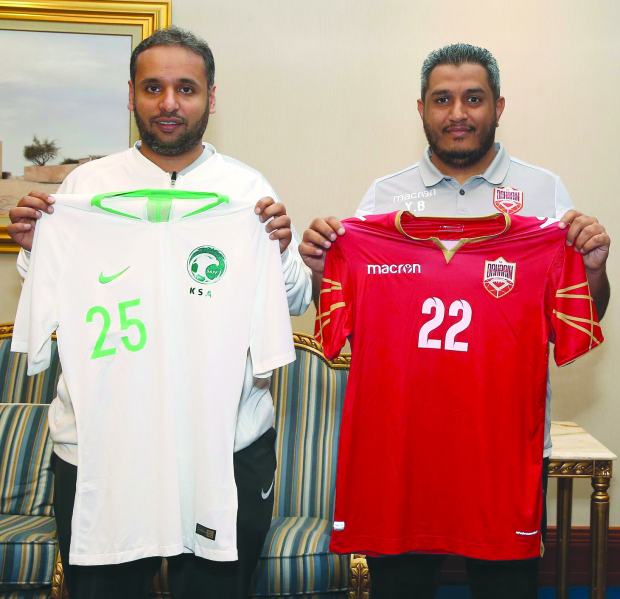 Saudi and Bahrain officials with their respective team's t-shirts.
Magic
Such is the magic of a memorable victory when it matters the most.
Another victory tonight can open the doors to endless possibilities - including qualifying for the World Cup.
Bahrain can draw inspiration from the recent achievements of two other national teams and their own performance in the World Cup and Asian Cup qualifiers apart from winning the West Asia Championship.
Bahrain beat Iran in a crucial match at home and are well placed to qualify for the next stage while the national basketball team finished third in the GCC Championship in Kuwait City last week.
But the icing on the cake was provided by the handball team who beat Qatar in Doha last month to book a maiden berth in the Olympic Games to be held in Tokyo next year.
Bahrain fans can look forward to cutting another cake tonight ... much ahead of Christmas and New Year.