SHIKA Aravind continued her impressive march yesterday in the girls under-12 singles section of the Eighth E K Kanoo Juniors Open Tennis Championship at Bahrain Tennis Club.
Shikha battled past Bishaka Bhakuni 7-5, 6-4 while three other matches in the same section were rather tame affairs.
Shevani Vinod sailed past Aarushi Sameer Joshi 6-2, 6-0 while Ziadan Hajar saw off Anushree Padhi 6-0, 6-1 and Leanne Sinocruz proved too good for Ons Belkhodja 6-0, 6-3.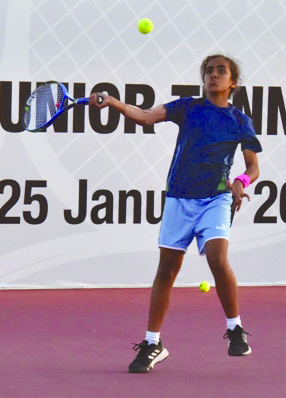 Zaidan ... easy winner
Other results:
Boys under-14 singles: James Blair bt Tristan Manners 6-2, 6-1.
Boys under-12 doubles: Rayyan Ahmed and Adrian Cifra bt Clark Sayago and Andrei Cifra 6-0, 6-0; Zayn Siddiqi and Vyom Gupta bt Abdul Rahman Al Dosseri and Redha Hassan A Nabi 6-1, 6-0; Javer Montes and Talal Al Sayed bt Ali Al Ahmed and Ali Al Iyeshi 6-3,6-1; Abdul Razzaq Al Henabi and Haiyder Al Fareed bt Hashim Al Toobli and Hussain Jalil Haji 6-2, 6-1.