EIRA Gabrelle Corral from the Philippines and Khadija Moussa from Egypt set up an exciting clash in the Under-16 Girls' Singles final in the eighth E K Kanoo Juniors Open Tennis Championship 2020, being played at Bahrain Tennis Club (BTC) in Juffair.
Eira booked her slot after defeating Trisha Ashok from India 6-2, 6-2 while Khadija followed suit with a hard-earned 7-5, 7-6 (3) victory against Madison Mordecai from the US.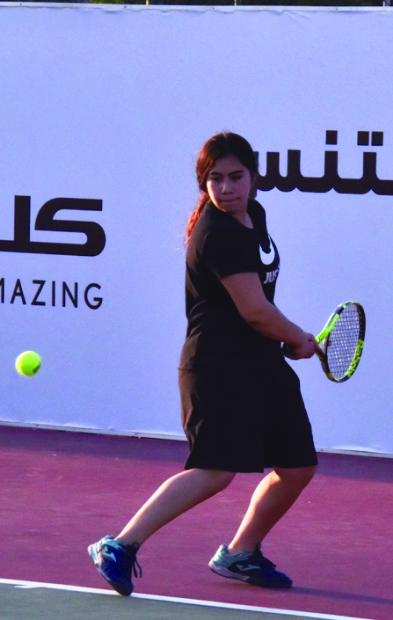 Khadija in action
Meanwhile, Bahraini Mohammed Al Khan and American Paul Blair will be meeting in the Under-16 Boys' Singles title match.
Al Khan qualified for the game after beating Faris Karim Hajjar from Tunisia 6-0, 6-2 while Blair punched his ticket with a 6-0, 6-0 triumph over Mohammed Alshehabi of Bahrain.
Comfortable
A third final was set up, with Zaidan Hajar of Bahrain and Leanne Sinocruz of the Philippines both making it through in the Under-12 Girls' Singles.
Zaidan was a comfortable 6-0, 6-0 winner over Sikha Aravind of India while Leanne was leading 4-0 in her match against Shevani Vinod, also from India, when her opponent retired.
Earlier yesterday at the BTC, the Pakistan-India pairing of Zayn Siddiqi and Vyom Gupta qualified for Under-12 Boys' Doubles final after eliminating the Indian-Filipino tandem of Rayyan Ahmed and Adrian Cifra 7-5, 3-6, 10-3 in a super tiebreak.
Tournament action continues this evening at BTC.
Only four matches are on schedule, including the semi-finals in both the Under-12 and Under-14 Boys' Singles categories.