MORE than 300 badminton players from around the world will be competing in an international competition in Bahrain from Tuesday.
After a two-year gap, the Bahrain Keraleeya Samajam (BKS) will be hosting the five-day Bahrain International Challenge (BIC) 2021, an event sanctioned by the Badminton World Federation.
"We are proud to host the biggest badminton tournament in Bahrain once again," BIC tournament director Prasobh Ramanathan said during a Press conference at BKS premises in Segaiya.
"The 150-member organising team has been working hard to put this tournament together.
"This year's event has attracted the most players in the history of the event and promises to be a real treat with top international players in action."
Players from Belarus, Malta, Belgium, Turkey, Azerbaijan, the US, Australia, Russia, Egypt, Singapore, Hong Kong, Sri Lanka, Malaysia, Estonia, Maldives, Canada, Syria, Iraq, the UAE, Pakistan, Saudi Arabia, South Africa and Bahrain will be competing in five events, with the largest contingents from India (90) and Indonesia (22).
Some of the top 100 ranked players participating include Sergey Sirant from Russia and Aakarshi Kashyap from India as well as former champion and fan favourite, Bayrak Ozge, from Turkey.
Bahrain's national team players Adnan Ebrahim and Jaffar Ebrahim, who won gold and silver in the sixth Arab Badminton Cup 2021 hosted in the kingdom, will also be competing.
The tournament that ends on November 27 will feature men's singles, women's singles, men's doubles, women's doubles and mixed doubles.
The draw for the event will first see qualifying matches and then the final 64 will go through the main draw in a knockout format.
Owing to the large number of entries this time, there is a pool of reserve players who will be part of the draw in case of any withdrawals.
The competition will carry world ranking points as well as cash prizes worth $15,000.
The BKS has undertaken a massive restructuring of its sport arena with the largest wooden courts for badminton on the island.
There are five practice courts in the newly-revamped hall undertaken at the cost of BD40,000.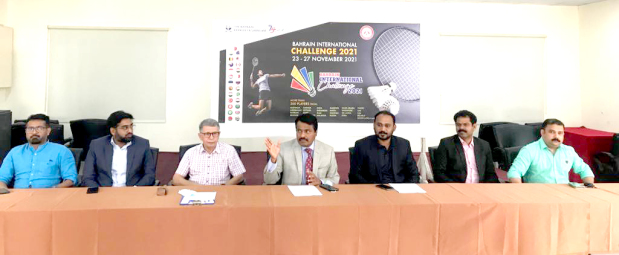 At the Press conference are, from left, BKS indoor games committee member Vinod Nair, Ramanathan, Bahrain Badminton and Squash Federation treasurer Ebrahim Kamal, BKS president P V Radhakrishnan Pillai, BKS indoor games secretary Paulson Lonappan, entertainment secretary Pradeep Patheri and indoor games committee convenor Mujeeb Rehman