The Bahrain Cricket Federation's (BCF) director of cricket, head coach of the Bahrain national cricket team and spin bowling coach of Gujarat Titans, who won the 2022 Indian Premier League IPL) title on Sunday, said yesterday that being part of an IPL-winning franchise was an incredibly fulfilling experience.
"This is as good as it can get," former India international, Aashish Kapoor, who was appointed Bahrain's head coach last December, told the GDN by phone from the Indian city of Ahmedabad where the IPL final was played. "There were more than 130,000 people in the Narendra Modi Stadium and the chants for the Titans, the home team, had to be heard to be believed."
Kapoor, who played Tests and One-Day Internationals (ODIs) for India as an off-spinning all-rounder between 1994 and 2000, is a Level-3 certified coach from the National Cricket Academy (NCA) in Bengaluru, India. This isn't his first stint in a coaching role for an IPL franchise: Kapoor was an all-weather part of the Delhi Daredevils (now the Delhi Capitals under different ownership) for seven years, starting in 2008 when the franchise – and the IPL – was launched. He has also been involved in India's junior cricket set-up, having served as chairman of selectors for the under-16, under-19 and under-23 teams, working closely for five years with former India great, Rahul Dravid.
The 50-year-old has a dual role in IPL debutants Gujarat Titans set-up – this was the team's first season, along with fellow newbies, Lucknow Super Giants – relying on his considerable experience as an off-spinner to function as the spin bowling coach and leveraging the insight gained through years of spotting talented young cricketers for India's age-level teams to scout for cricketers who could sparkle for the Titans.
Soon after he arrived in Bahrain, Kapoor knew he had spotted one such cricketer in the kingdom's national team. Tamil Nadu-born, Sathaiya Veerapathiran, 30, had impressed the coach in a T20 practice match against Oman and, when the all-rounder smashed an unbeaten 33 off 14 balls and nearly took Bahrain to an improbable, come-from-behind victory over full International Cricket Council (ICC) Member team Ireland in a 2022 ICC Men's T20 World Cup Global Qualifier match in March, Kapoor knew what he had to do.
Two weeks later, Veerapathiran was on a plane to Ahmedabad, chosen by Kapoor to be a net bowler for the franchise. He was very excited to be there, the cricketer told the GDN soon after he reached, and was looking forward to the opportunity of practising with, and learning from, some of the best cricketers in the world.
Unfortunately, about a month into the tournament, Kapoor said, Veerapathiran picked up some sort of calf injury which curtailed any further participation in the tournament for the medium-pace bowling, big-hitting all-rounder.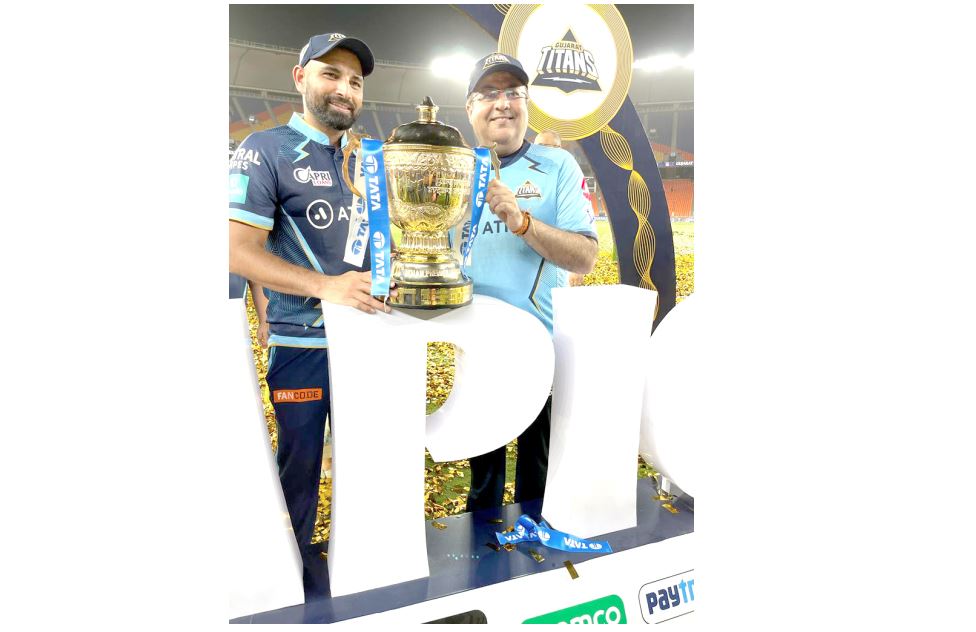 Kapoor, right, and star Indian and Titans fast bowler Mohammad Shami with the IPL trophy
"That's just the nature of the sport," Kapoor said. "Injuries can happen any time and he was just unfortunate to have picked up this injury. Still, it's been a great learning experience for him and will serve him well in the future."
Despite Veerapathiran's enthusiastic participation in this year's IPL, Kapoor doesn't see any more young Bahrain-based cricketers heading to future editions of the world's premier domestic T20 cricket league.
"I want Bahraini cricketers to focus on the national team," Kapoor, who will return to the kingdom to resume his coaching duties in the second week of June, said. "That's what they need to be concentrating on. The IPL, as great an experience as it can be, shouldn't take precedence over the Bahrain cricket team."
The team, in fact, has made rapid progress since Kapoor took over and, in March, almost managed to qualify for the main draw of the 2022 ICC Men's T20 Cricket World Cup, scheduled to be held in Australia later this year. For a side comprised of weekend cricketers with day jobs, their performance in the world cup qualifiers was impressive, Kapoor said.
Before he returns to Bahrain, though, the BCF official will have to first completely process his own elation of the Titans winning the trophy in their very first season.
"The guys are all very happy, as you would imagine," Kapoor said. "Last night, we returned to our hotel at about three in the morning. After the prize distribution ceremony, there were tons of people taking pictures with the trophy … family members, the owners of the team, everyone wanted photographs with the prize.
"And I think I said it before, but it's worth repeating. The support of that massive crowd for the home team just gave our side that extra edge. To play a final in that kind of atmosphere, with 90 per cent of those present cheering you on … it just can't be described in words. It has to be experienced."