TRAFFIC jams and lack of proper parking are the main challenges faced by those seeking care for young Sickle Cell Disease (SCD) patients at Bahrain's main hospital, a recent research has revealed.
A mixed-method study conducted at Salmaniya Medical Complex (SMC) revealed that more than half of the caregivers for SCD patients were discouraged by these factors and preferred seeking care at smaller healthcare centres.
The study – Caregivers' experience of seeking care for adolescents with SCD in a tertiary care hospital in Bahrain – was conducted by a group of Arabian Gulf University (AGU) researchers – Khadija Al Saif, Fatema Mohamed Abdulla, Anwaar Alrahim, Sara Abduljawad, Zainab Matrook, Jenan Jaafar Abdulla, Fatima Bughamar, Fatema Alasfoor, Rana Taqi, Amna Almarzooq and Jamil Ahmed.
Overwhelming
"The caregivers of adolescents with SCD experienced several overwhelming challenges, including problems in accessing healthcare and receiving medical services, in addition to influences on the emotional, financial and social aspects of their lives," the study found.
SCD is a group of inherited red blood cell disorders associated with several health conditions and typically begins at five to six months of life. There are more than 8,600 SCD patients in Bahrain.
While a number of studies have focused on quality of life for SCD patients themselves, this study focused on the experience of their caregivers.
"The participants were primary caregivers of adolescents aged 10–18 with SCD who were admitted at SMC during the study period," the researchers noted in the study.
It relied on questionnaires filled out by 101 caregivers, as well as 18 in-depth interviews with Bahraini caregivers.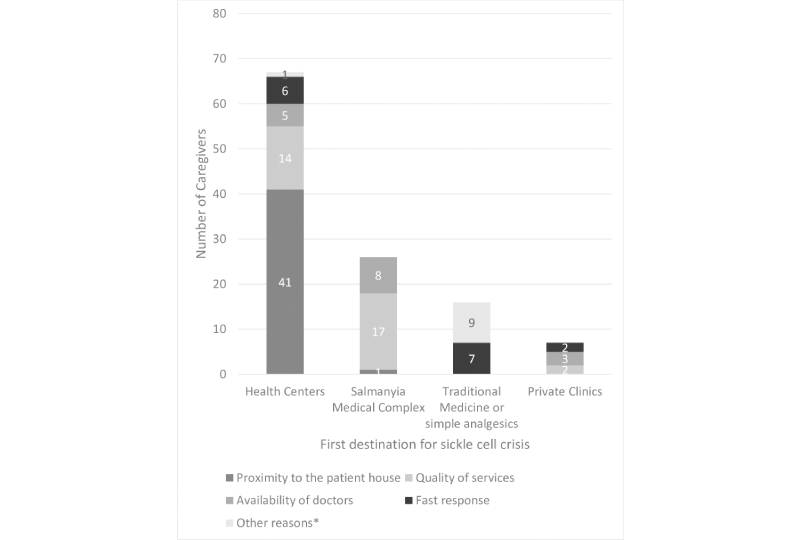 A graph analysing the caregivers' reasons for selecting various types of health facilities as the first destination for a sickle cell crisis
It found that 52.5 per cent of caregivers complained about the lack of parking space at the hospital, and 26.7pc stated that they experienced heavy traffic jam on their way to SMC.
These factors are particularly aggravating when the patient is going through sickle cell crisis – extremely painful episodes which happen when blood vessels get blocked.
According to the UK's National Health Service, some patients have episodes every few weeks while others may have less than one a year and it is not always clear what triggers it, but factors can include weather conditions like wind, rain or cold, dehydration, stress or strenuous exercise.
In the case of a sickle cell crisis, the Bahraini study found that 56.4pc of caregivers preferred to take patients to health centres, compared to 25.7pc who favoured visiting SMC.
About 15.8pc used traditional medicine or painkillers and 6.9pc went to private clinics.
Proximity was the primary determinant when it came to which medical facility caregivers ultimately ended up picking, although some participants did note that delays at SMC's emergency and accidents department made them seek out facilities with a faster response time.
Caregivers
The study also found that 73.3pc of caregivers got 'high' family support, of which 81.2pc received emotional support. Approximately 18.8pc received financial support and 23.8pc got informational support.
Most caregivers – 73pc – found that caring for an SCD adolescent had a low impact on their relationships with others.
Researchers also said the questionnaires revealed that 14.8pc of caregivers had catastrophic health expenditures – with them spending more than 10pc of their total family income on patients' health.
In the qualitative part of the study, the complexities associated with caring for SCD patients including psychological tragedy, hardships and cost of care, as well as dissatisfaction with hospital facilities and insufficient healthcare emerged as major challenges for caregivers.
Notably, caregivers preferred to visit health centres for treatment over SMC after 'previous unpleasant experiences'.
"In health centres, the care is much better," a 39-year-old Bahraini mother of a 12-year-old boy told researchers.
"They let us in as we arrive, bring the doctor, and treat him (the patient), but in hospitals I have to wait for three hours (before we receive the treatment)."
The study went on to suggest telemedicine – virtual access to doctors – as a means of enhancing access to services and reducing the burden on caregivers.