Kingdom of Bahrain, Tuesday 26th July, 2022: Al Dana Amphitheatre, Bahrain's newest and most exciting live entertainment destination, recently announced a huge global superstar within its exciting calendar of events for the upcoming 2022 season of entertainment, Lewis Capaldi, who will be performing live on Saturday, 26 November 2022.
The Scottish singer-songwriter and two-time Brit award winner will visit Bahrain as part of his eagerly awaited world tour. Best known for his Grammy-nominated 'Someone You Loved' single, the longest song ever to remain in the UK Top 10 singles chart, Capaldi is also the first artist in the US ever to have their first two singles consecutively at number 1 in the USA airplay chart. His debut album, 'Divinely Uninspired to a Hellish Extent', was certified platinum in just ten weeks.
Lewis Capaldi's musical talent was recognised early on, and he gave his first public performances age nine. He's come a long way since then – to date, playing sold-out shows in 36 countries round the world, and selling over 10 million copies of his debut album. His global streams currently stand at approximately 15 billion.
Shane Chalmers, Chief Executive Officer of Al Dana Amphitheatre, said: "One of our goals at Al Dana Amphitheatre is to welcome top-selling artists from all over the world to Bahrain. Lewis Capaldi has sold-out venues across the world, playing to packed crowds at every event and we can't wait to welcome him to perform at Al Dana Amphitheatre in November."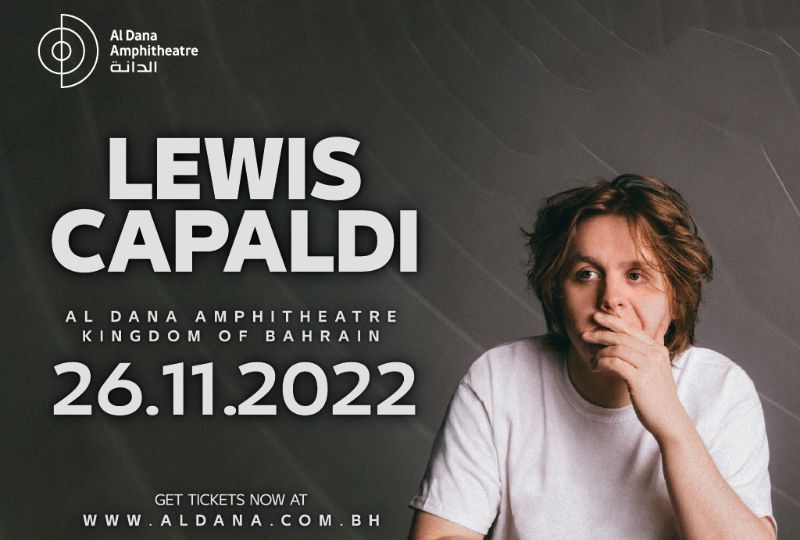 Launched in November 2021, the open-air venue has already played host to a variety of international artists, including Khalid, Eric Clapton and Kings of Leon, during its inaugural season and has welcomed approximately 70,000 fans to its breath-taking setting.
Ticket prices start from BHD 25 and are now available on Al Dana Amphitheatre's official website www.aldana.com.bh and via Platinumlist.
Located in Sakhir, Al Dana Amphitheatre is fast becoming a regional industry leader, creating internationally recognised experiences and further promoting the Kingdom as an essential entertainment destination, in addition to contributing to its economic growth. Additionally, the venue can host a variety of indoor and outdoor events for global event promoters, corporate events and private celebrations.
Follow Al Dana Amphitheatre's social media accounts and stay tuned for all announcements and updates, Instagram (@aldana_amp), Twitter (@aldana_amp), Facebook (facebook.com/aldanaamphitheatre), TikTok (@aldana_amp) and Snapchat (@aldana_amp).
For more information, visit Al Dana Amphitheatre's official website, www.aldana.com.bh, or call +973-17454444.