GULF WEEKLY-
The favourite four heroes in a halfshell are back in animation form ... so let the mutant mayhem begin.
The Teenage Mutant Ninja Turtles: Mutant Mayhem, released in August, has made its way to Paramount+ streaming platform bringing the charismatic characters closer to home for all to enjoy.
And while the film did receive positive reviews and a solid profit, apparently it didn't match the box-office success of the Michael Bay produced movies in the franchise.
The 2014 Teenage Mutant Ninja Turtles, for example, garnered $493 million and was considered a box-office success. Teenage Mutant Ninja Turtles: Mutant Mayhem, which had a $70m budget, made its first $100m in just two weeks of its release.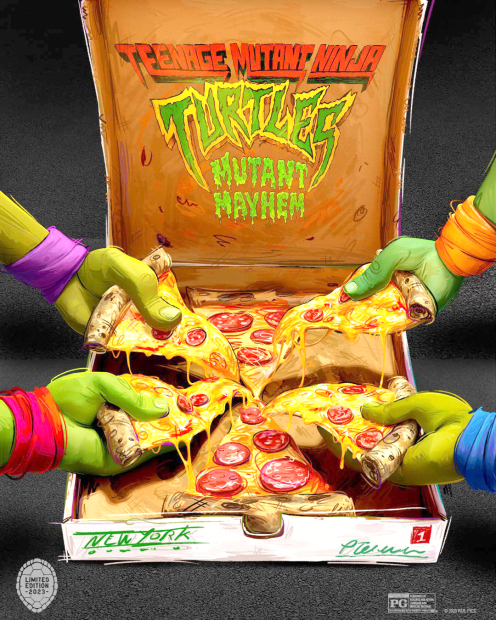 Teenage Mutant Ninja Turtles: Mutant Mayhem poster
The hope now is that this streaming release will result in a new audience and fan base….which is mostly likely to happen as who can resist the pizza-loving, 'punny' ninjas?
In the flick, New York City is in trouble yet again and it's up to the four weapon weaving brothers— Leonardo, Donatello, Raphael and Michelangelo— to save it. Of course, they've got determined reporter April O'Neil by their side along with their wise master and father-figure Splinter. Together the cool crew will be facing their ultimate nemesis - the evil Shredder.
And what a killer voice cast as the animation features comedians, rappers and on-screen newcomers and veterans, including Micah Abbey, Shamon Brown Jr, Nicolas Cantu, Brady Noon, Ayo Edebiri, Maya Rudolph, John Cena, Seth Rogen, Rose Byrne, Natasia Demetriou, Giancarlo Esposito, Ice Cube, Paul Rudd, Austin Post (Post Malone), Hannibal Buress and Jackie Chan as Splinter.