RIZWAN Tariq was declared the champion of the night and Sunaina Menon icon of the year in the Fifth Team Isak's Strongest Man and Woman Challenge.
Competition was held in deadlift, bench press, push-ups and kids crossfit.
The event aimed to find the very best deadlifter and the most fittest person (hitches and straps were not allowed) among Bahrain-based personal trainer Isak k Abdulla clients.
The line-up included Bansi Parekh, Mizba Nabeel, Mona Shah, Sunaina Menon, Sajna Kanchery, Arpan Saxena, Arjun Kamboj, Divyan Kriplani, Digal Pinto, Hiren Parekh, Rizwan Tareq, Mohd Aftab, Mohd Zeshan and Rahul Bhatia.
Al Hilal Healthcare Group CEO Dr Sharath Chandran, Mr Asia 2019 Duiij Khalifa Mahmood (Bahrain national bodybuilder), IFBB (International federation of bodybuilding) qualified bodybuilder Mohd Saad (from Egypt) attended the prize distribution ceremony.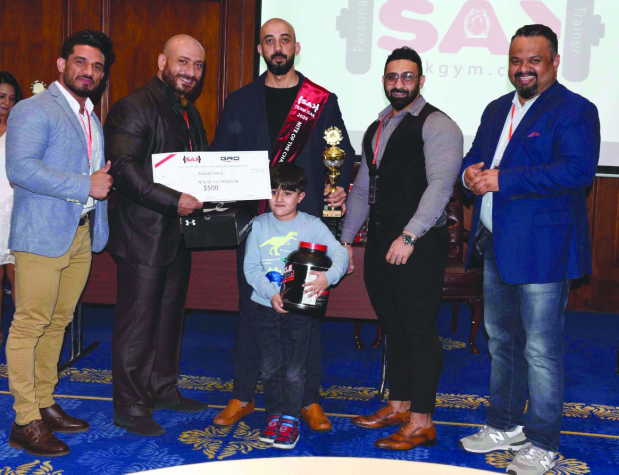 Results:
Deadlift challenge (Male, champion of the night):
1 Rizwan Tariq – 485 lbs (broke his own record of 410lbs)
($500, Sneaker, food supplements trophy and appreciation certificate)
2 Arpan Saxena – 400lbs (personal best)
(Sneakers, trophy, food supplements and appreciation certificate.)
3 Arjun Kamboj and Divyan Kriplani (380lbs each)
(Trophy and food supplements):
Push-ups challenge: 1 Rizwan Tariq
Bench press challenge (Male):
1 Mohd Aftab (350lbs)
($500, trophy, food supplements and certificate)
2 Mohd Seshan (310lbs)
(Trophy and certificate)
3 Arjun Kamboj (250lbs)
(Trophy and certificate)
Deadlift challenge (Female):
1 Mona Shah and Sunaina Menon (230lbs each)
(500 dollars, Sneakers, trophy and food supplements with appreciation certificate)
2 Bansi Parekh (Trophy and food supplements, appreciation certificate)
3 Mizba Nabeel (Trophy and food supplements, appreciation certificate)
Bench press challenge (Female):
1 Bansi Parekh (135lbs)
(Trophy, food supplements and appreciation certificate)
2 Mona Shah ((Trophy)
3 Mizba Nabeel (Trophy