Al Rau'd Team jockey Mohammed Abdulhamid Al Hashemi clinched the 120km National Day Endurance Championship yesterday.
His Majesty King Hamad's representative for humanitarian work and youth affairs, and Bahrain Royal Equestrian and Endurance Federation (Breef) honorary president Shaikh Nasser bin Hamad Al Khalifa presented the winner of the four-stage race with the coveted trophy.
Present were Supreme Council for Environment (SCE) vice-president, Supreme Council for Youth and Sports (SCYS) Co-ordination, Implementation and Follow-up Committee vice-chairman Shaikh Faisal bin Rashid Al Khalifa, Breef chairman Shaikh Isa bin Abdulla Al Khalifa and Endurance Committee chairman Shaikh Daij bin Salman Al Khalifa attended.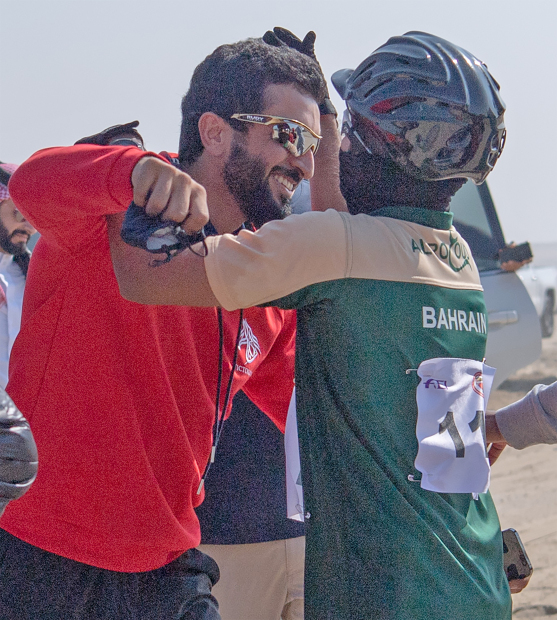 Action from the race
Al Hashemi crossed the finish line, clocking 4.15.50 hours, followed by Victorious rider Celia Garcia (4.15.51 hrs) and Othman Al Awadhi (4.18.42 hrs).
Riders from Kuwait, Spain, Britain, Argentina and Uruguay converged on Bahrain take part in the National Day Championship.
Shaikh Nasser presented a commemorative gift to Batelco chairman Shaikh Khalifa bin Abdulla Al Khalifa, praising the telecom company for sponsoring the National Day Championship.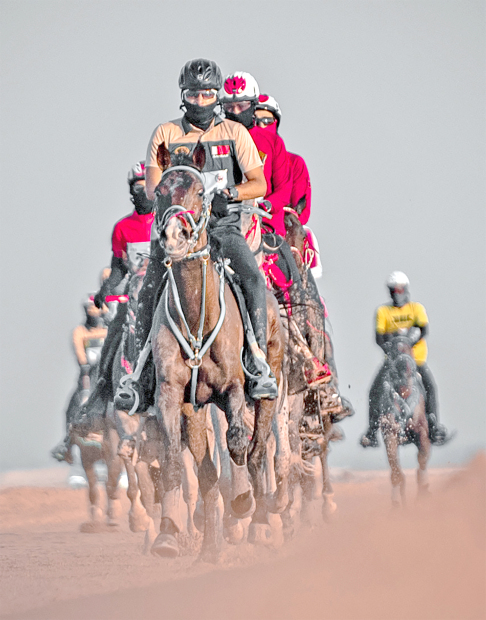 Shaikh Nasser congratulates the winner
He also presented a memento to Manarat Al Bahrain chairman Mohammed Al Manaseer, who provided cash prizes to the riders who succeeded in finishing the four-stage race.
Manarat Al Bahrain presented a commemorative gift to the King's representative, and hailed Breef's outstanding organisation of the annual event.
Shaikh Nasser praised the performance of the Al Ra'ud team and its rider Al Hashemi who implemented the plan set by his coach and won the thrilling race, especially the fourth stage where the competition between the top three jockeys was at its highest level.
"The competitive level will boost all teams and riders who will take part in the much-awaited Shaikh Khalid bin Hamad Al Khalifa's Cup," said Shaikh Nasser.