BAHRAIN-BASED Indian businessman KG Baburajan has won the Pravasi Bharatiya Samman Award, the highest civilian award conferred on overseas Indians.
K G Baburajan was born on November 29, 1954, in Eraviperoor, Kuttoor, in the Alappuzha District of the state of Kerala, India, as the second son of Hindi school teacher K K Divakaran and Bharathy.
Armed with degrees in Chemistry and Civil Engineering, and a dream to make it big, Mr Baburajan spent one year working in India before he crossed the seas in the early 1980s to take up an assignment in Saudi Arabia with Stanger Industries' joint venture partner Al Hoty Stanger Ltd.
He was assigned to work on the Bahrain-Saudi Causeway project from start to finish; and proceeded to set up base in Bahrain.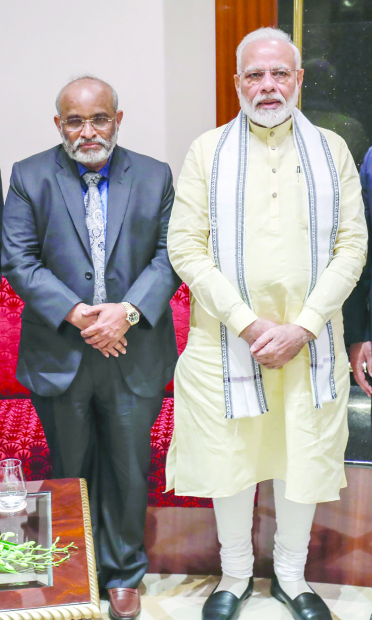 Mr Baburajan with Indian Prime Minister Narendra Modi
Being involved in such a mammoth project so early in his career put Mr Baburajan on a high-speed track to expertise, excellence and eminence.
Mr Baburajan is a member of the US-based International Accreditation Service which is tasked with the accreditation of calibration and testing laboratories worldwide.
He is the only Indian member in this prestigious scientific body's Accreditation and Technical Evaluation Committee.
Over the years, Mr Baburajan has been involved in a variety of projects which have showcased his expertise in soil investigations, be it high-rise buildings, dredging and reclamation, offshore installations, causeways, bridges, power plants, aluminium smelters or refineries.
He has exhibited his skills in failure investigations, material testing, non-destructive testing, metallurgy, pipeline services, piling and other ground improvement works.
The years that followed saw the establishment of a string of companies in the region – Qatar Engineering Laboratories, Doha; Gulf Engineering Laboratories, Sohar, Oman; a foreign branch of Qatar Engineering Laboratories in Bahrain; and Quality Piling and Construction Company, Bahrain.
Currently Mr Baburajan is the chairman and managing director of BKG Holding, the umbrella organisation of all companies he has set up in Bahrain, Qatar and Oman.
His success has not taken his sights off charitable activities and his contribution to social causes and patronage of cultural and sporting events have been phenomenal.
A recipient of the BKS Outstanding Bahrain Icon Award and a number of Business Excellence Awards, he recently received a Lifetime Achievement Award bestowed on him by the Sivagiri Trust. The Bahrain Keraleeya Samajam has also named one of its community halls the K G Baburajan Hall in his honour.
– Promotional content