A LEADING healthcare provider in Bahrain has taken the lead in bringing some of the world's most renowned plastic and gynaecological surgeons to the kingdom.
The Royal Hospital for Women and Children (RHWC), in Riffa, has taken this initiative in solidarity with Beverly Hills Sunset Surgery Centre International, Los Angeles County, California and Vasilica Aesthetics, with a vision to promote medical tourism in the country, as Bahrain looks to attract patients from across the GCC.
The venture also provides Bahrainis with an opportunity to have access to the best doctors and get treatment without having to travel abroad.
"Promoting medical tourism in Bahrain is among the primary focuses of the hospital and we are proud to be the first hospital in Bahrain to take this initiative," said chief executive Rohit Srivastava.
"This is just the beginning. Our vision of making Bahrain a hub for medical tourism goes a long way."
He thanked the National Health Regulatory Authority and the Health Ministry for their support to launch the world-famous doctors in Bahrain and assured the hospital's commitment to participate in their vision of providing safe and high-quality healthcare in the kingdom.
Dr Nicholas Nikolov, Dr Andrew Ordon and Dr David Matlock are among the biggest names in the world of cosmetology, and by bringing them to Bahrain the hospital is cementing its position as a pioneer in the cosmetic healthcare sector of the country, further adding to its ambition of providing the highest quality of cosmetic procedures and non-invasive beauty treatments in Bahrain.
Dr Nikolov was first among a list of star-studded doctors the hospital succeeded in bringing to Bahrain.
His visit from January 27 to 30 drew very positive response.
Numerous Bahraini citizens and GCC nationals booked slots with the doctor and procedures were successfully completed.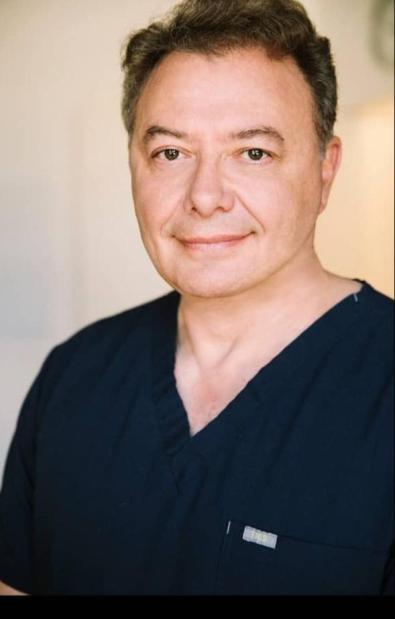 Dr Nikolov
"There is humongous potential for cosmetology in Bahrain. Not only will there be a boost in medical tourism but also the country's economy as a whole," said Dr Nikolov.
"For me it has been a fantastic experience to come to Bahrain.
"The hospital is exceptional in all aspects. Great ambience, latest medical equipment, friendly staff and, most importantly, patient confidentiality.
"One cannot but choose Royal Hospital for Women and Children for their cosmetology and plastic surgery treatments."
With more than 20 years of experience in plastic surgery, Dr Nikolov is world-renowned for his keen aesthetic sense which emphasises facial harmony and subtle changes to create a fresh appearance.
Whether he is performing plastic surgery or an in-office aesthetic procedure, he uses his skills to help every patient enhance their natural beauty.
Having been numerously featured on CNN, CBS, NBC, and the Discovery Health Channel, he is also a diplomat of the American Society of Plastic Surgeons, a fellow of the American College of Surgeons, and a member of the California Society of Plastic Surgeons as well as the American and the International Society of Aesthetic Plastic Surgery.
His visit to Bahrain is just the start and the hospital has planned for Dr Matlock to be available from Thursday while Dr Ordon is expected to arrive next month.