GULFWEEKLY: Triathlons are back in the kingdom with athletes from all walks of life gearing up for this season's competition, writes Mai Al Khatib-Camille.
The Bahrain Triathlon Association (BTA) kicked off its Champions League at the end of last month, attracting more than 250 triathletes to compete in a 750m swim, 20km bike ride and 5km run in Zallaq area...and there are three more events to go.
Athletes such as Becky Spiga, Genre Cycle's fitness and body transformation coach, who specialises in indoor cycling, and three members from her team, have already registered and started training for the second Sprint Triathlon set for Saturday. They've also put together two teams to compete as well.
This will be Spiga's eighth sprint triathlon and her first since the outbreak of Covid-19. Her advice for those participating for the first time since the global pandemic struck is to 'not worry about the time but focus on the journey'.
"I'm a bit nervous this time round," said Spiga, a 39-year-old from Saar, who started her journey to sporting success eight years ago with an 48kg weight loss and became a part of the health sector four years ago. It built up her confidence and motivated her to help others achieve their personal fitness goals.
"Like the rest of the team, I advise people to not worry about the time they achieve but just to enjoy the ride and community feel," she added. "It's really about taking part, not winning.
"As for what I hope to achieve personally, it is to push myself physically as that is what truly empowers me in my every day mindset. This is what I hope to achieve by bringing the Genre Cycle Team together; to make them believe and see how strong they are."
Spiga and her squad have been training online with virtual indoor cycling classes and they also meet together for early morning runs and sea swims.
Spiga is also receiving additional training from Sarah Alsammak, founder of Cycling Bees in Bahrain.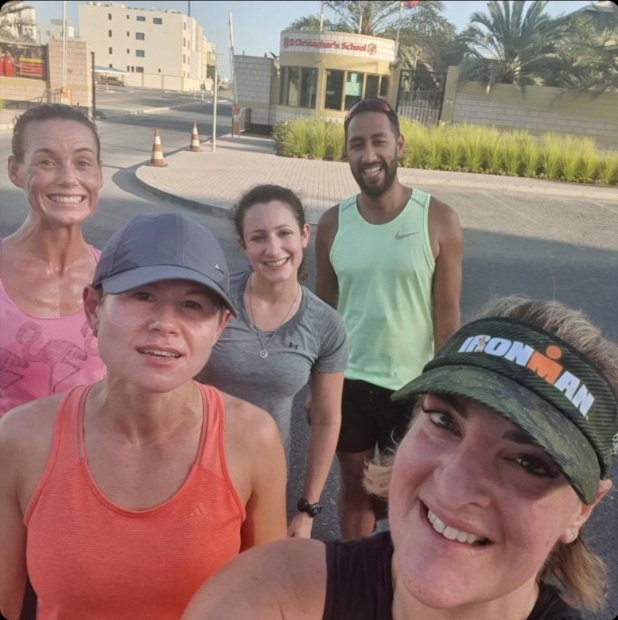 From left: Belinda Sprat, Natalia Yarmolinskaya, Brooke Kantor, Hashim Kadhem and Spiga, training together
"For anyone starting their own fitness journey, booking runs, triathlons and Spartan races and more, gives them a goal to work towards," said Spiga, who is passionate about cycling and also teaches cardio kickboxing, body pump, pound fit and more.
"I would always recommend it. Start with a 5km race. When you receive a medal for something that once seemed impossible it will make you believe you are ready for anything."
The BTA Sprint Triathlon, which includes a 750m swim, 20km bike ride and 5km run, will be staged in Zallaq at 7am. There will be a ceremony with special medals awarded to first, second and third place winners in the male, female and team category for each race. Those who complete the race will get medals as well.
Competitors must be aged 16 and above to register. There will be a BTA Olympic Duathlon on November 12 and the final Champion's League race, the BTA Olympic Triathlon, on November 19.
For details, visit @triathlonbh on Instagram.