BAHRAIN'S fighters last night bagged eight medals, including a gold, in the 2019 Brave International Combat Week, thanks to the unwavering support of Shaikh Khalid bin Hamad Al Khalifa, first deputy chairman of Supreme Council for Youth and Sports and president of Bahrain Olympic Committee.
Organised by Bahrain Mixed Martial Arts Federation (BMMAF) in collaboration with Brave Organisation and IMMAF-WMMAA, the event is taking place at Khalifa Sports City in Isa Town.
It also features the sixth edition of the Amateur World Championship and Brave 31 as well as KHK International Open Championship.
"We are proud of seeing our national fighters gifting Bahrain eight medals today on the first day of the finals," Shaikh Khalid bin Hamad said, praising the Bahraini participants for winning a gold medal, a silver and six bronze.
It's worth noting that Brave and the first edition of KHK International Open Championship will kick-off today.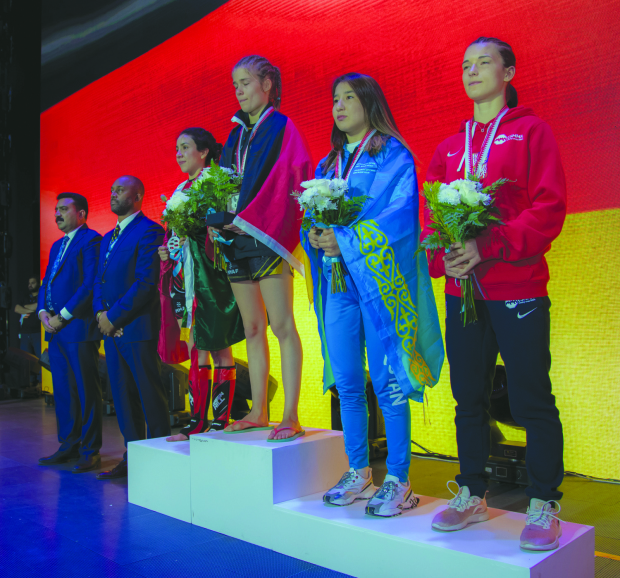 The winners on the podium
Importance
Shaikh Khalid underscored the importance of holding both events on Bahrain's soil because they represent a real opportunity to spread the MMA sport among the Bahraini youth.
Bahrain's gold medal was won by Murad Jusinov who triumphed over Russian fighter Kamel Shaikhamatov in the final of the 77kg category.
Meanwhile, Murad Ibrahaminov was defeated in the final game of the 56.7kg category against Jani Adilisek of Kazakhstan, as a result of which he settled for the silver medal.
The Bahraini bronze medal winners included Ali Yaqoub, Shamel Aliakhanov, Brenam Mujamed Majidov, Sultan Omarov and Shamel Ghazareef.
The winners were honoured by representatives from the sponsors of the event.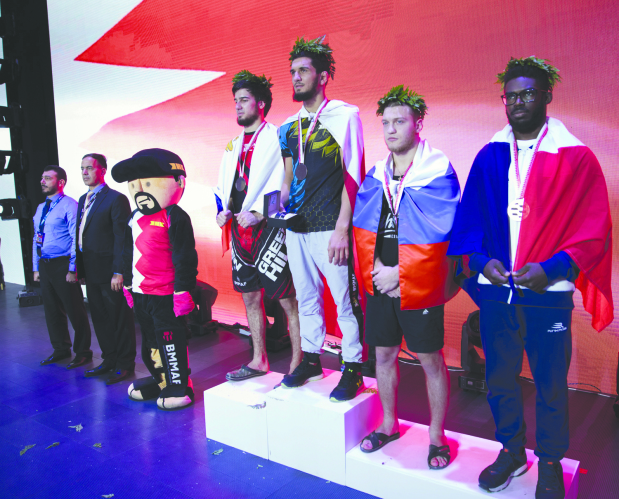 The winners on the podium