HUNDREDS of gamers across Bahrain will compete in an online tournament starting today, with thousands of dinars in prize money up for grabs.
The BOC Gaming Tournament features 182 teams of four players each competing in PUBG Mobile and more than 800 people signed up to take part in FIFA20 on Playstation 4.
It is held in association with KHK Esports and Bahrain Comic Con and aims to elevate the gaming scene in Bahrain as well as place the kingdom on the global gaming map.
KHK Esports and the tournament are both initiatives launched by Supreme Council for Youth and Sports first deputy chairman, Bahrain Olympic Committee president and Brave Combat Federation founder Shaikh Khalid bin Hamad Al Khalifa in line with national efforts urging people to stay at home as the kingdom combats the Coronavirus Disease (Covid-19) outbreak.
KHK Esports chief operations officer Khalid Bukhari told the GDN that preparations for the nationwide event took weeks with special mechanisms in place to ensure a smooth experience for all players.
"Basically, most of the people have nothing to do at home and everyone is complaining about being bored, so doing this competition promotes and helps them stay at home," he said.
"Gaming is part of everyone's life especially nowadays when there's nothing to do and the most important thing is for them to stay at home and not go out, so we didn't want them to gather in one place for the games but to compete from the comfort of their own home.
"We also have a special FIFA20 tournament for the Bahrain National Football team players."
He also said that efforts were underway to continue the FIFA20 competition for one to two weeks, with one game per person until the quarter-finals, semi-finals and finals where each player will play two games.
He explained that on PUBG Mobile the players play on three maps, with 100 players taking part every day for 45 minutes per game on three maps.
Software
Bukhari said that a special software has been implemented to showcase the entire tournament online on Youtube Live, Facebook Live and Twitch for live streaming and Gameplay Playback.
"Anyone anywhere around the world can watch the games played for the duration of the competition," he added.
"We're going to be creating a room where a 100 players are going to join for PUBG Mobile – 100 players have to come in together at the same time and then start the competition – and we have to do that three times a day.
"For FIFA20 we have around 800 players coming online at the same time and playing against each other.
"KHK Esports is a new entity and we want to make it a global international gaming entity, with special thanks to Shaikh Khalid for taking on this initiative towards the egaming world."
The first place winner in PUBG Mobile will receive $7,000 followed by $5,000, $3,000, $2,000 and $1,000 for the other winners.
Meanwhile, $5,000 is up for grabs for first place in FIFA20, with $3,000 for second place and $2,000 for third place, while the Bahrain National team players can win $3,000 for first place, $2,000 for second place and $1,000 for third place in their special FIFA20 tournament.
For more details about the tournament and live stream links follow @khkesports on Instagram.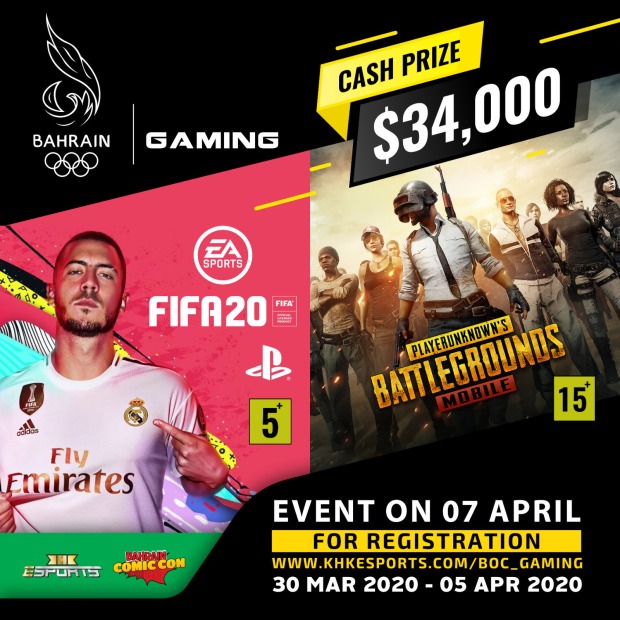 A poster of the two games that will be played during the tournament.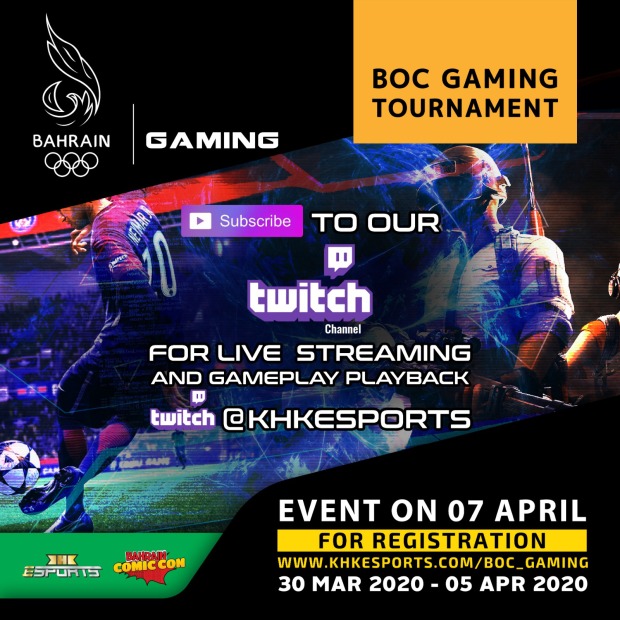 Details of the live streaming links available