THE American School of Bahrain (ASB) is fully set to open its campus doors for the first academic year in September 2020.
Featuring state-of-the-art, innovative facilities, ASB aims to combine real-world, inquiry-based teaching with the latest educational technology, bringing in the key 21st century skills of communication, collaboration, critical thinking, and creativity into classrooms.
Designed to support its future-focused ethos, the school's campus incorporates advanced educational opportunities with collaborative learning spaces, informal student presentation areas and immersive technological learning experiences.
From its early childhood centre and elementary school to middle and high school, the campus incorporates purpose-built, age-appropriate learning environments while maintaining a natural flow throughout.
Classrooms are interconnected with common areas such as the student commons, athletics complex, playgrounds, learning hub and cafeteria.
Break-out areas further allow teachers to divide students into smaller groups giving them the opportunity to share ideas and build on each other's experiences while large, covered outdoor learning spaces offer students the chance to extend their learning beyond the classroom walls.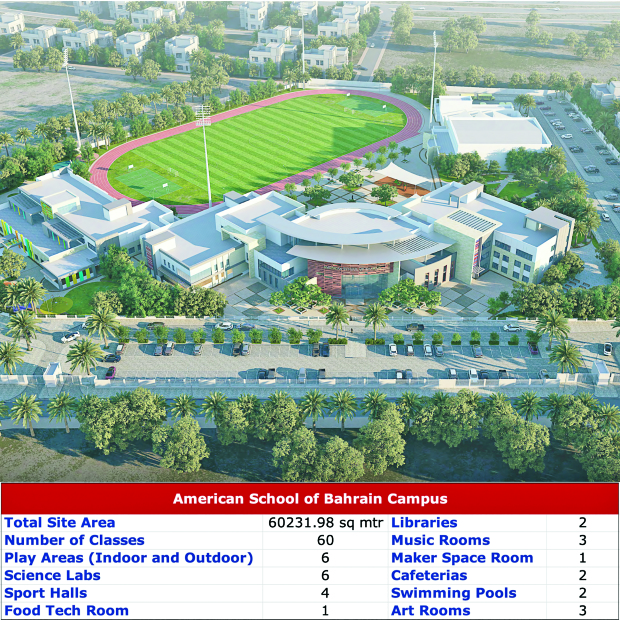 Other notable on-campus features include orientation of the buildings to incorporate natural light and minimise the environmental impact of solar heat gain. Majority of the classrooms have north and south-facing windows to reduce direct sun exposure while maximising solar energy control.
Furthermore, spacious covered exterior areas provide shaded gathering points to beat the summer heat while the gym and auditorium facilities are accessible to students from the interior of the campus with separate access for the public through the parking area, contributing to a safe and secure environment.
ASB's unique location in Wadi Al Buhair, North Riffa, near the Bahrain National Stadium, allows for easy access via a dedicated road, and includes multiple vehicle access points to help tackle the issue of high levels of traffic during peak hours in the educational district of Bahrain.
"At a time when personal outreach and human touch have never been more important, I see ASB acting as a community catalyst to bring families and the school together in an effort to help students discover their individual passions and talents," ASB founding director Dave McMaster said.
ASB is being established in Bahrain by Esol Education, the world's largest operator of high-quality international American schools, in a joint venture with Elm Education Fund (Elm), a Bahrain-based education platform backed by Bahrain Mumtalakat Holding Company, the country's sovereign wealth fund.
Elm establishes and co-invests in world-class educational institutions in partnership with leading global operators.
Construction Fun Facts
Quantity of concrete: 7,500 cu m (18,000 tonnes)
Number of lights: 3,415
Number of trees: 314
Area of football field: 13,550sqm
Volume of water in swimming pools: 570,000 litre
To learn more about the school and to enrol, visit www.asb.bh.