Bahrain International Circuit (BIC) yesterday congratulated His Majesty King Hamad and His Royal Highness Prince Salman bin Hamad Al Khalifa, Crown Prince Prime Minister, on Bahrain Motor Federation (BMF) team being awarded the prestigious FIA President Special Award.
The honour was announced during the International Automobile Federation's (FIA) annual FIA Prize Giving Ceremony, which took place virtually in the presence of president Jean Todt.
The special award was in recognition of the BMF team's prompt response to the dramatic crash involving Romain Grosjean during the Formula 1 Gulf Air Bahrain Grand Prix 2020 on November 29.
BIC chief executive Shaikh Salman bin Isa Al Khalifa said that the award contributes to the sense of joy across the kingdom as it celebrates National Day and His Majesty's accession to the throne.
"This global achievement reflects the support received by the kingdom's motorsport family from His Majesty and the Crown Prince Prime Minister.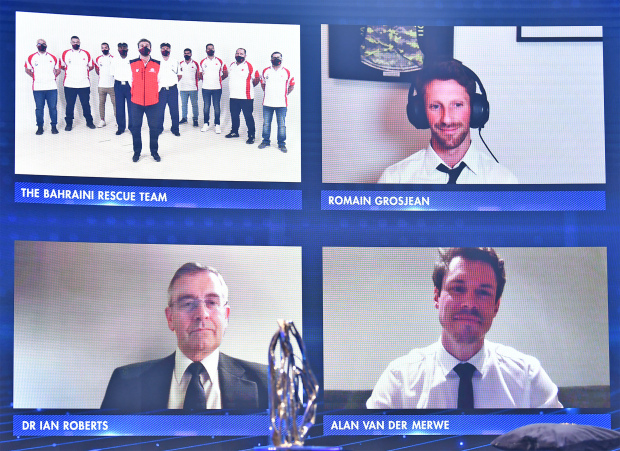 Bahraini marshals, Grosjean, Dr Roberts and Van der Merwe at the virtual ceremony
"On behalf of the board of directors and team at BIC, I congratulate Shaikh Abdulla bin Isa Al Khalifa, president of the BMF, on receiving this prestigious award," Shaikh Salman said.
"We take great pride in Bahraini marshals being recognised in this way, too often the unsung heroes of our sport.
"This prestigious award is testament to all the hard work and preparation our marshals undertake throughout the year, both for our annual grand prix and other track activities.
On behalf of the BMF team, general manager Abdulaziz Al Thawadi accepted the award during the virtual ceremony alongside Bahraini marshals Abdulla Qamber, Mehab Medhat Fawzi, Osama Mohamed Alsherooqi, Ahmed Abdulla Mohammed, Dr Yasir Yar Muhammad, Ahmed Saeed, Arif Turkey, Joby Mathew and Thaer Ali Taher.
Also presented with the FIA President Special Award were FIA medical rescue co-ordinator Dr Ian Roberts and FIA Formula 1 medical car driver Alan van der Merwe, each receiving a medal.
"It is a very proud moment for us in Bahrain, especially for the marshals and those responding to the incident," said Al Thawadi during the virtual ceremony, which was also attended by Grosjean.
"It was a dramatic moment for everyone involved but our well-trained team made a success of their response.
"We were all relieved to see Grosjean rescued by the fire marshals within 32 seconds of the incident and the FIA doctors on hand."