Social media users across the GCC have been receiving notifications that participating in a simple online survey could win them free Etihad Airways airline tickets.
On clicking on the link that is making the rounds on the internet, participants are initially asked to answer three simple questions.
Once the answers are submitted, users are then directed to post their comments on a Facebook page and share the link with 15 of their Facebook friends, in order to claim their prize.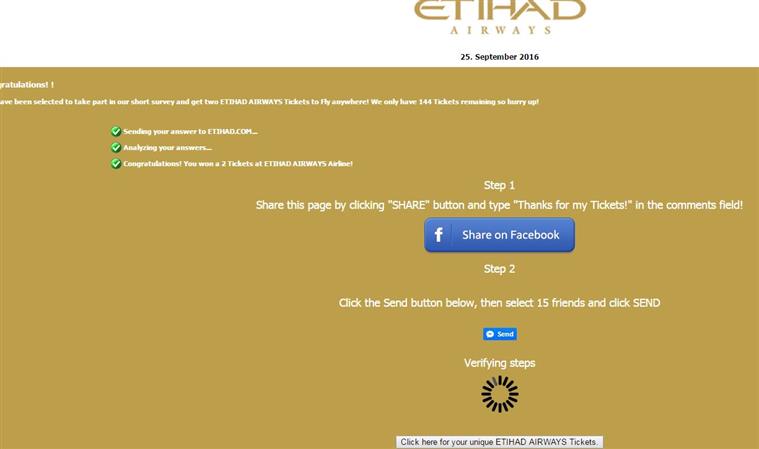 Screenshot of the online survey appearing on the bogus websites.
The Abu Dhabi-based carrier however, issued a statement on its official Facebook page that the website and the claims being forwarded were bogus and warned users not to fall prey to their schemes.
The statement reads as follows:
"Etihad Airways has been made aware of a number of bogus websites on which Etihad Airways tickets are offered in return for participants completing a survey, adding a link to their Facebook account and sharing it with friends, and other similar activities.

"Any offer of Etihad Airways flight tickets through these bogus websites is fraudulent. Etihad Airways has no association with these websites whatsoever and has initiated proceedings against the owners of the sites.

"Any tickets issued contrary to the airline's terms and conditions are void and won't be accepted for travel on Etihad Airways."