GULF WEEKLY: Fans are mourning the loss of Argentinian footballing legend Diego Armando Maradona and recalling his visits to the kingdom, writes Mai Al-Khatib-Camille.

The Argentinian star, who died from a heart attack last Wednesday, touched down in Bahrain in 2017. At the time he was head coach of UAE outfit Al-Fujairah.

Maradona, alongside retired Brazil ace Ronaldinho and American women's national team star Carli Lloyd, greeted fans in the West Wing of Seef Mall.

In the crowd was Bahrain national team midfielder and Tekkers Academy director, Deena Rahman. "I've always idolised skilful, technical and exciting players to watch and he simply was one of the best," she said. "I was playing in a Futsal tournament with the national team and we went to meet Maradona in Seef Mall.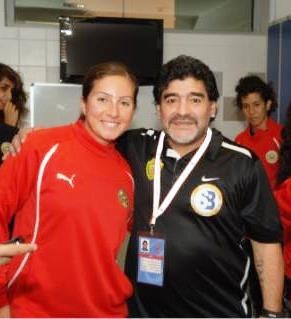 Rahman and Maradona

"He signed a football and kicked it into the crowd and I caught it. It now has pride of place in my home. It was a huge shock to hear he had passed away but unfortunately I feel his lifestyle in the last few years caught up with him. It's a huge shame."

Maradona also participated in a few friendly fixtures at the National Stadium in Riffa behind closed doors, held on the sidelines of the 67th FIFA Congress.

GDN reporter Reem Al Daaysi, a former Bahrain Women's National Football Team defender, saw him in action.

"It was surreal to see him walk in front of me after spending most of my childhood watching 'the hand of God' on TV creating magic on the field," she said.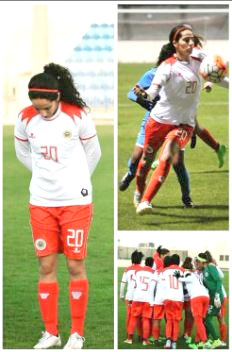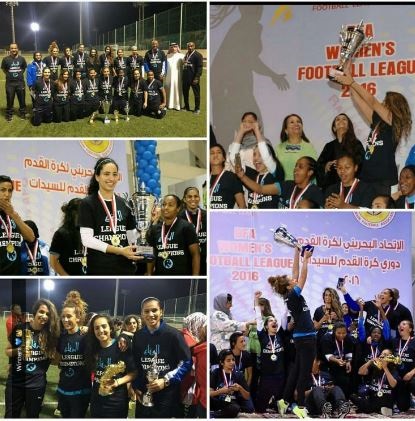 Al Daaysi in action

'The hand of God' was a phrase used by the footballer to describe a controversial goal that he scored during the Argentina vs England quarter final match of the 1986 FIFA World Cup.

"To watch him handle a ball in real life just a feet away from me felt like the greatest moment of 2017 for me as I got to see a master, a magician, a legend and an artist all moulded into one person," Al Daaysi added.

"His passing came as a shock and he has left behind a void in the hearts of football lovers all around the world after giving so much to the game."

This was not the World Cup star's first time in Bahrain. He also visited the kingdom in April 2012 to lead UAE's Al Wasl FC in the GCC Clubs Championship League Group D tie against Riffa at Khalifa Sports City.

The legend was given a warm welcome by senior club officials, headed by soccer team manager Shaikh Khalid bin Ali Al Khalifa, his deputy Shaikh Khalifa bin Ali Al Khalifa, club vice-president Shaikh Ziyad bin Faisal Al Khalifa and other board members.

He also received a certificate of honorary membership from the Bahrain club's representatives.