GULF WEEKLY-
Hilton Bahrain's latest brunch themed 'Back to School' warmly welcomes both families and individuals, taking everyone on a journey of great food, drinks and entertainment, writes Merlin Rose Babu.
Walking into Origin Kitchen and Culture, I was amused to discover how the theme had been applied to the décor and presentation of the dishes at the buffet counter.
There were school lunchboxes neatly laid out across the table with a range of dips and condiments, giant crayons and toys, bringing the colourful theme to life, and sure to excite little ones and the child in you.
"We all have families and everyone gets excited about going back to school and while this brunch is mostly for the parents, it is also something that children can enjoy," Hilton Bahrain food and beverage manager Kevin Rowe told Gulf Weekly.
"So we welcome families and it is a fantastic opportunity for everyone to relive their childhood memories."
While an overwhelming variety of food choices lay before me, I chose the sushi route first.
All maki rolls – California, shredded crab, salmon, shrimp tempura, veggie – and salmon nigiri were delicious ... dipped in soy sauce and the obligatory dot of wasabi.
The salad counter had the usual mezze favourites and international choices such as a tasty teriyaki beef salad, refreshing Japanese kani salad, halloumi and apple salads, to name a few.
Executive Chef Ravneet Manchanda explained how the team at Hilton had worked to bring the special theme to life.
"We have child-friendly dishes and decor, such as bags, pencil boxes and tiffin boxes and the food is inspired by children – so we are doing hot dogs, chicken nuggets, pulled chicken burgers, that although might be considered basic, is being presented completely differently, because we have live stations," he said.
"In the pastry section, we have candy floss, waffles and pancakes and even in the starters, we have options that children would love, such as pineapple cheese sticks, crudites and obviously, we also have the buffet spread," Chef Ravneet added.
Decking out the buffet station were grilled lemon herb chicken, sweet and sour fish, baked chicken parmesan, Thai seafood curry, baked meatballs in mornay sauce, beef stir fry, shrimp scampi linguine, and much more.
There was even an Indian station featuring a live tandoor for freshly-baked rotis, naans and chicken tikka, various chutneys and a selection of six pickles!
Knowing very well that there was no way I would be able to sample everything, I headed for the carvery station, opting for the BBQ chicken, beef striploin and brisket, poured over some gravy and garnished with a cluster flavoured salt flakes.
The chicken drumstick was tender and flavourful with crispy skin and both beef options were perfectly cooked and delicious with the gravy which was on-point.
You also have the choice of a range of sides at the same counter, including honey glazed carrots, roasted beetroot and celeriac, hasselback potatoes and grilled corn.
By this time, the dessert counter was calling out to me and I knew I had to try the homemade icecreams.
I opted for the mixed berry sorbet, mango and strawberry ice creams and my favourite was definitely the sorbet, which was light and refreshing with a smooth, creamy finish.
Right next to the ice cream station was a chocolate fountain that seemed a popular choice with both adults and children alike, but being a dark chocolate lover myself, I did not indulge.
Rounding off the dessert station was a selection of Arabic sweets that were clearly very popular judging by the empty plates, whole cakes as well as a colourful mini dessert selection of opera bites, chocolate pops, hazelnut chocolate stone, caramel pot de crème, banoffee tart and blueberry cheesecake.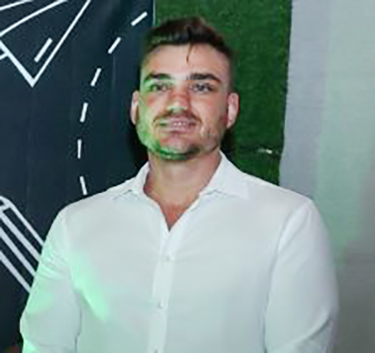 Hilton Bahrain food and beverage manager Kevin Rowe
Kevin was happy to share what the hotel has in store for its next theme, a two-month-long extravaganza called the 'Street Food Festival Brunch'.
"The next theme will be spread over October and November and will touch base on different street foods from around the world," he said.
"It will showcase a little bit about what our culinary experts can do within the hotel and since there are a lot of celebrations during these two months like Oktoberfest and Halloween, we will theme our brunches on those days, as part of the street food brunch," he explained.
Friday brunch at the Hilton Bahrain runs from 12.30pm to 4pm every week and costs BD39 with unlimited select beverages and BD28 net with soft beverages.