GULF WEEKLY-
One of Bahrain's top plays this summer dazzled regional and international audiences at one of the oldest and most renowned experimental theatre festivals in the Arab world.
Master and Slave, staged by Al Sawari Theatre, was amongst the line-up of invited performances at the Cairo International Festival for Experimental Theatre (CIFET) and one of its actors, Ahmed Saeed, was even nominated for CIFET's Best Actor award.
"It was an honour to even be nominated for this award at a festival which attracted more than 4,000 participants from around the world," Ahmed, 28, told GulfWeekly.
"For me, my role in this play as well as other acting roles I have taken on in the last few months have been a great privilege that allowed me to break barriers as an actor and a human being.
"And to be able to showcase our play to a new audience was incredible – I am still processing the standing ovation we got after our first performance!"
As GulfWeekly's sister publication GDN has previously reported, the play, which was staged in Bahrain for two nights earlier this summer, is a modern Arabic adaptation of a three-millennia-old poem written in the Akkadian language known as 'Dialogue of Pessimism.'
It centres on two characters – a master and a slave – debating a range of topics including birth, death and the meaning of life. At the beginning of every scene, the master declares 'slave, attend me!' and then poses a series of questions which the slave answers.
The dialogue begins with the 'Master' going back and forth on whether or not he should go to the king's palace. The duo then discuss topics from eating dinner and getting married to sparking an uprising and making a ritual sacrifice for Mesopotamian gods. They even discuss investing money and charity work.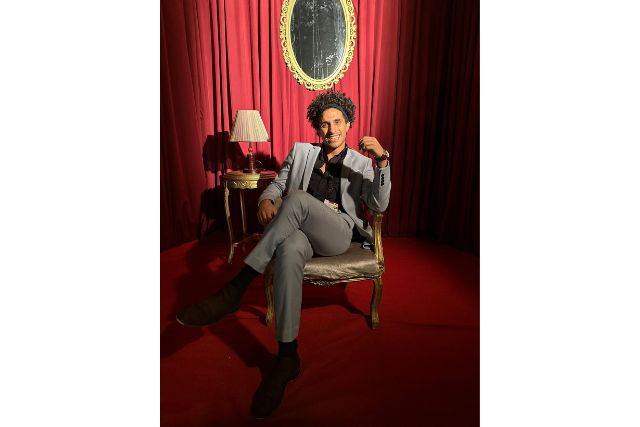 One of the actors, Ahmed Saeed
Ahmed, who plays the slave, is joined on stage by his talented colleague Saleh Alkhayer-Alderazi.
The existential and philosophical narrative has been animated into an atmospheric, flashy, one-of-a-kind experience by director Khaled Al Rowaie.
At CIFET, which kicked off on September 1 and concluded on September 8, the play was performed twice as well, according to Ahmed.
"We are still overwhelmed with the positive responses from the audience regarding our show," Saleh, 33, added.
"People loved everything about it from the acting to the directing and scenography involved. We performed on the first day of the festival and people were still talking about our show on the last day; it's absolutely thrilling."
There were a total of 18 plays in the festival, according to Saleh. Two of these were Egyptian, nine were from other Arab countries, of which three were from the GCC, including Master and Slave, and seven were non-Arabic plays from around the world.
"It's very interesting to see that every country represented their own style and take on theatre," Saleh added.
"We feel that we represented AlSawari Theatre's identity of experimental theatre; which we were known for since our inception.
"We are fortunate to have seen other plays from across the world and for the connections we have made with the people involved."
The team is coy about where they plan to tour the play going forward, but remain ambitious and hopeful about taking it around the world.
For more details, follow @alsawari_theater on Instagram.