GULF WEEKLY-
Bahraini runner Jaffar Alshehabi is set to take on the crème de la crème of competitors from around the world in the 49th BMW Berlin-Marathon on Sunday to raise awareness about breast cancer.
The 39-year-old deputy general manager of a supply management chain, who has had a passion for sports since childhood, is lacing up for a loving tribute run that aims to also raise funds for Think Pink Bahrain Breast Cancer Society.
"I am participating in this marathon as an homage to my late mother, who bravely battled breast cancer for an extended period," said Jaffar, from Janabiya, who reached out to the home-grown non-profit organisation to lend his support for the breast cancer awareness cause.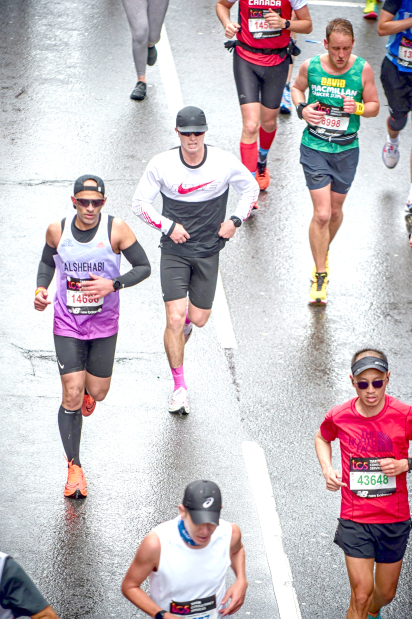 Jaffar during one of the marathons
"This is an amazing initiative," said Think Pink: Bahrain Breast Cancer Society's founder, president and chairperson Dr Julie Sprakel. "It's his personal challenge and I love it when things like this happen. We are all cheering for him and what incredible exposure on an international platform once again for Bahrain!"
The BMW Berlin-Marathon, which features the best of the best, is known to be the fastest marathon in the world with 12 world records set during the past 48 editions of this event. Some of the big names that have participated include US record holder Keira D'Amato, marathon world champion Gotytom Gebreslase, double Olympic champion and world record holder Eliud Kipchoge.
And, compared to other marathons, the 42.195km course is extremely flat, with many straight sections while also running through one of the most historic cities in the world. The athletes will run along the magnificent boulevard 'Unter den Linden' through the Brandenburg Gate towards the finish, crossing the former inner-German border.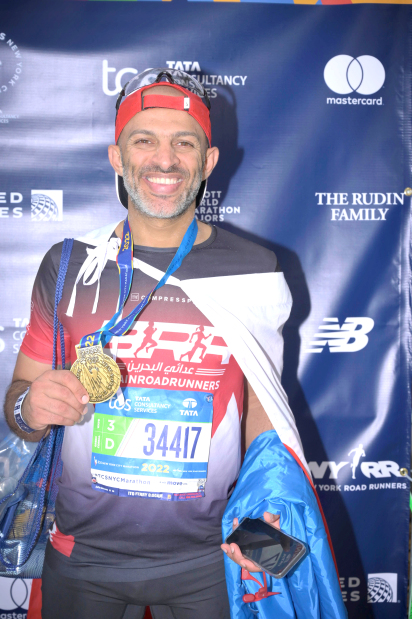 Achiever: Jaffar with his marathon medal
Last year, it attracted runners from 157 nations giving the opportunity for numerous athletes to achieve their individual goals.
Aside for running for a great cause, Jaffar hopes to 'achieve physical fitness, mental resilience, and a sense of accomplishment through running marathons'.
"My forthcoming objective is to pursue the completion of the world's major marathons," added Jaffar who has more than 17 years' experience in both the banking and industrial sectors. "After the Berlin Marathon, I aspire to run the remaining three - namely the Boston Marathon, Chicago Marathon and Tokyo Marathon."
His running journey started in 2005 when a friend inspired him to incorporate a 3km run before each gym session.
"However, I didn't venture beyond 10km until 2019 when I embarked on the Bahrain Ironman," he explained. "That experience marked my introduction to half marathons, and from there, I gradually increased my running distance, eventually centring my focus on running."
He ran the New York City Marathon in November 2022 and the London Marathon in April 2023.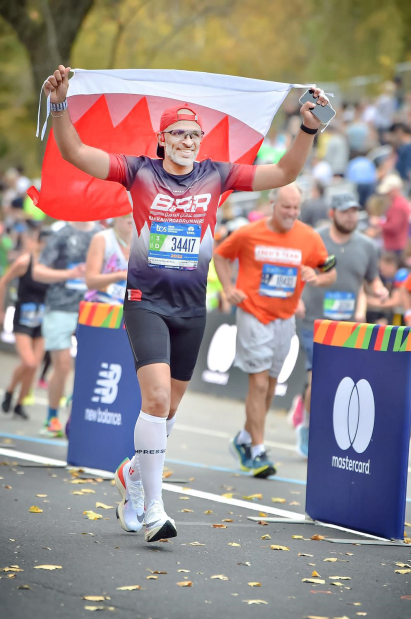 Test of strength: Jaffar in the New York City Marathon
Those who wish to contribute to Jaffar's breast cancer campaign with a monetary donation for Think Pink Bahrain, contact @jaffaralshehabi or @thinkpinkbahrain on Instagram for more details.