The Bahrain women's cricket squad has had a couple of productive training sessions in Kuala Lumpur ahead of their opening game of the 2023 ICC Women's T20 World Cup Asia Qualifer on Thursday and has set their sights on qualifying for the 11-team tournament's semi-final, the team's head coach said yesterday.
A 14-member squad landed in the Malaysian capital last Saturday, five days in advance of their opening Group A fixture against Qatar at the UKM-YSD Cricket Oval in Bangi.
"We arrived a few days early so that our players would have more time to acclimatise and get used to local conditions," Bahrain coach Azeem Ul Haque told the GDN by phone from Kuala Lumpur.
"We've spent the past couple of days putting the players through training sessions and net sessions. They all look in good nick so it augurs well for our first target, which is to qualify for the semi-finals."
Bhutan, Nepal, the UAE and hosts Malaysia are the other four teams in Group A while China, Hong Kong, Kuwait, Myanmar and Thailand have been slotted in Group B.
Bahrain are led by Deepika Rasangika, the former Sri Lanka all-rounder, who holds the record for the highest individual score in women's T20Is which she set by blasting 161 not out off just 66 balls against Saudi Arabia in May, 2022.
"This is a very balanced squad," Haque said.
"And they're a very tight-knit unit. They've been really focused in the training sessions we've had.
"On Sunday, we had to ease into our first practice session in the morning but, in the second session in the evening, the intensity was much higher."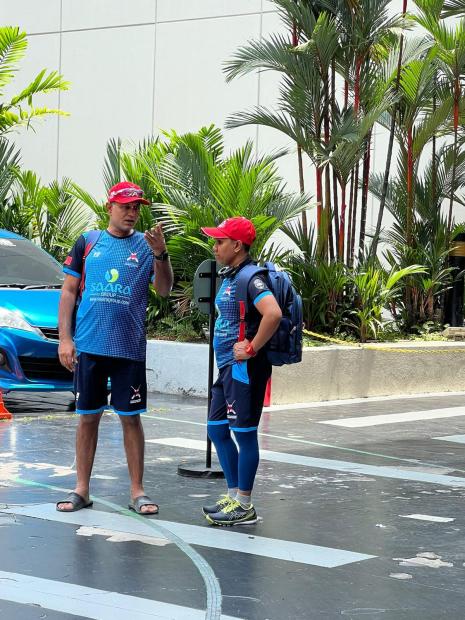 Bahrain coach Azeem Ul Haque, left, in conversation with captain Deepika Rasangika
Yesterday, the squad also had some rigorous fielding drills, Haque added.
"Thankfully, there are no niggles or injuries in our camp. Everyone – the bowlers, the batters – looks in good touch. After our net practice, we put the players through a comprehensive fielding drill and they responded very well to that.
"We're in a tough group so we will have to be on top of our game. As I said earlier, our first aim is to qualify for the semi-finals."
After their game against Qatar, Bahrain will square off against Nepal on Friday followed by what promises to be a tough encounter against Malaysia two days later.
They will then take on the UAE the very next day before playing their last group match against Bhutan on September 6.
According to the tournament's format, the two finalists will head to the 2024 ICC Women's T20 World Cup Qualifer, which will be held early next year.
The 2024 ICC Women's T20 World Cup will take place in Bangladesh in September-October next year.