GULF WEEKLY-
A collective of creatives from Bahrain Arts Society and the island's art scene will be showcasing their works today to raise awareness and funds for Palestine that has been bombarded by Israel since October 7.
More than 11,000 Gazans, including 4,500 children, have been killed in the attacks.
The artistic community based in Budaiya, which has been spreading colour and culture throughout the kingdom since 1983 and boasts more than 170 members of different nationalities, has teamed up with the Royal Humanitarian Foundation (RHF) to stage the expo - From Bahrain to Palestine.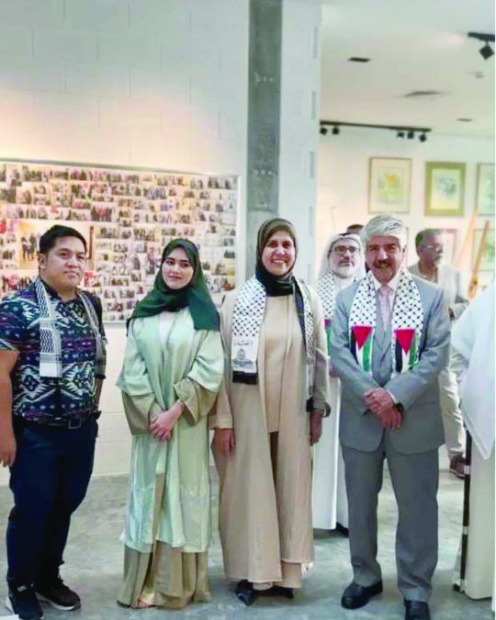 Joining hands: Jess, left, with Dr Mustafa, right
According to the organisers, 100 per cent of the proceeds from the sales of the art will be donated towards the Bahrain National Campaign to Support Palestinians in Gaza.
"Our members wanted to show support to those in Gaza, and they are showing their solidarity using the language they know best - art," said a Society spokesperson, who added that more than 55 artists from the collective and afar will be participating in the fundraiser tonight at 7pm.
Popular Bahraini abstract expressionist Areej Rajab is proud to be one of the painters featuring a vibrant mixed media on canvas.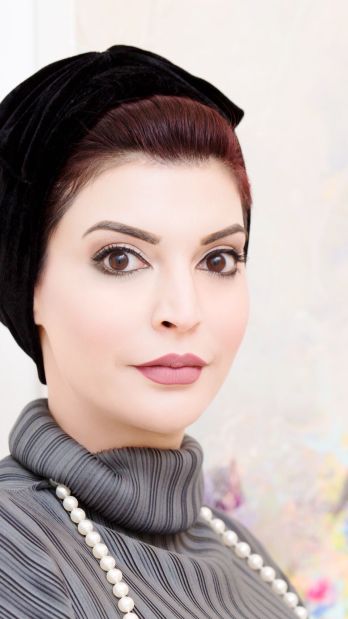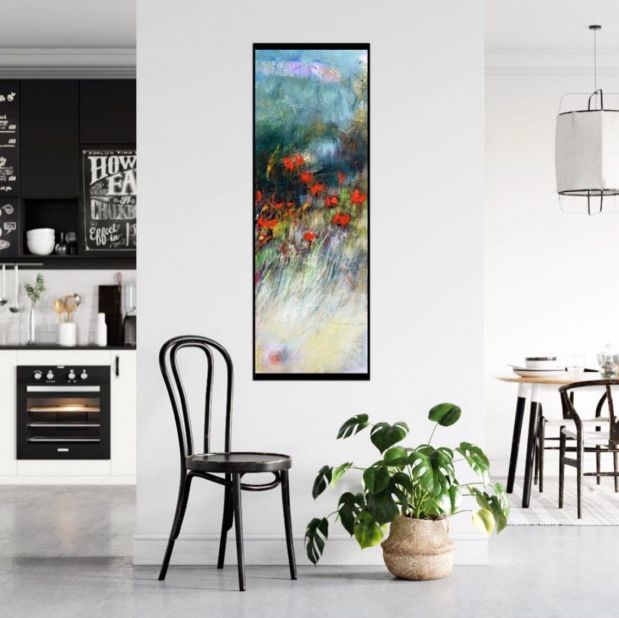 Bahraini abstract expressionist Areej Rajab (left) and Hope: Areej's painting (right)
"This is my contribution towards the Palestinian cause and my display of support and hope," said the mother-of-three who has participated in a series of exhibitions in Bahrain, Oman, Dubai, Abu Dhabi, Qatar, Saudi Arabia and the UK over the past few years.
Well-known Bahraini artist Balqees Fakhro, 73, has donated a BD750 acrylic painting for the heart-warming event, which she said, aims to support the 'children and people of Palestine'. Her paintings revolve around the themes of belonging and memories of places.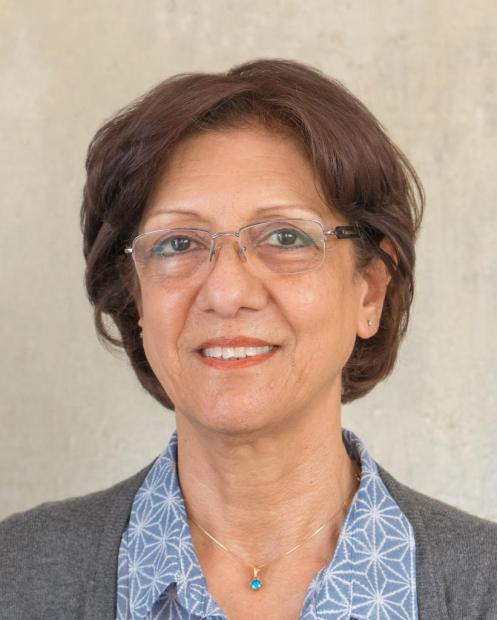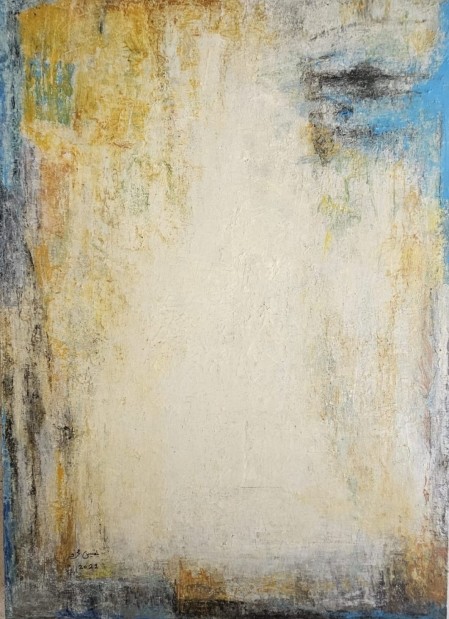 Balqees (left) and Belonging: Balqees' work of art (right)
"Through my abstract style, my paintings showcase the mystery of places that belong to a very basic form of living, such as the caves and tents of our ancestors," she said.
Other reputable artists involved in the exhibition include Abbas Yousif, a printmaker, collage maker and writer, along with artist and architect Mustafa Al Nasheet, who is displaying his mixed media art called Watermelon Seedling.
Meanwhile, another fundraiser - the Gaza in the Heart exhibition - being held at the charity-based community centre Safeya Ali Kanoo Hub in Manama, is still drawing crowds.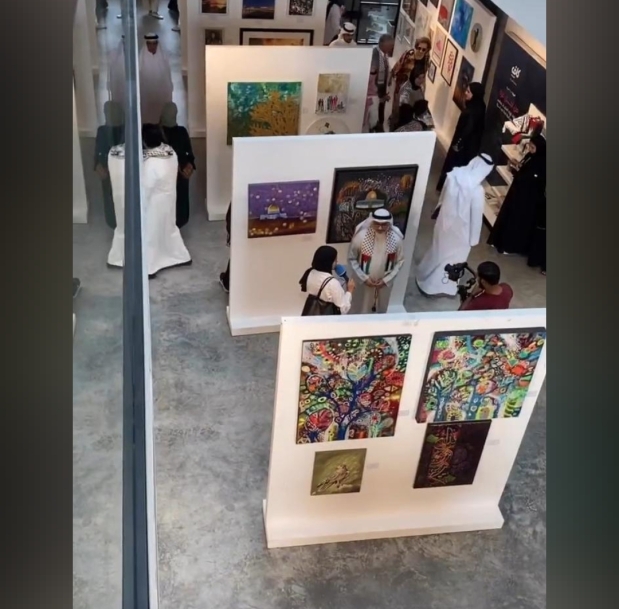 The Gaza in the Heart exhibition
The showcase, organised by the non-for-profit Bahrain Trust Foundation (BTF) - which started on November 11 and runs until November 22 - boasts more than 70 pieces made by more than 30 artists of different nationalities…also on sale to support the plight of Palestinians in war-torn Gaza.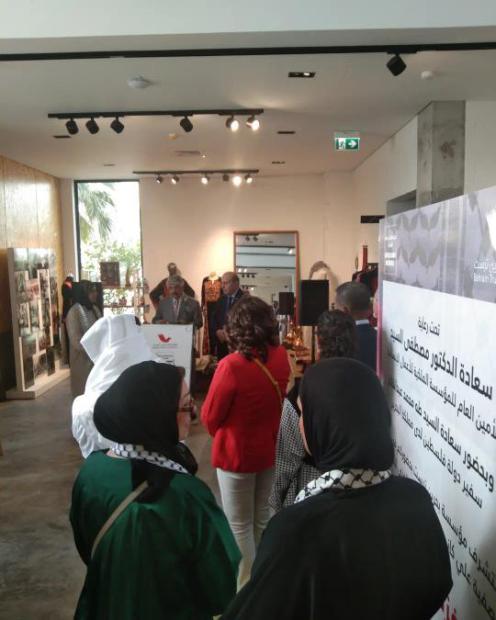 solidarity: The opening of Gaza in the Heart
According to the United Nations (UN), 1.5 million of the 2.4m people living in the densely populated territory have been displaced by the war. Gaza's health system, which has been flooded with trauma patients and is running out of medicines and fuel, is close to being non-existent due to the air strikes. There are 350,000 patients with chronic conditions in Gaza, including cancer and diabetes, as well as 50,000 pregnant women, according to data from UN organisations, and many are no longer receiving treatment.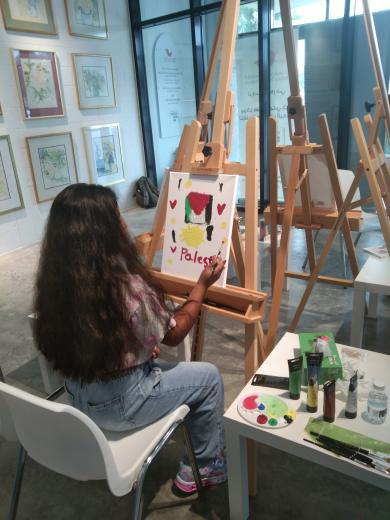 A visitor at the Safeya Ali Kanoo Hub painting
Palestinian Ambassador Taha Mohammed Abdul Qader attended the opening of the art event, held under the patronage of RHF secretary general and committee chairman Dr Mustafa Al Sayed, and provided a heartfelt speech. Dr Mustafa praised the art, which reflected the 'heritage and beauty of Palestine' as well as the 'love of those in Bahrain'.
BTF board of trustees chairperson Dr Fatima Mohammed Al Balooshi was also present, and highlighted the importance of people's participation to help our 'brothers and sisters in Palestine'.
Artists such as Filipino Jesus Ramos Tejada, who goes by the name Jess, was thrilled to partake in the event.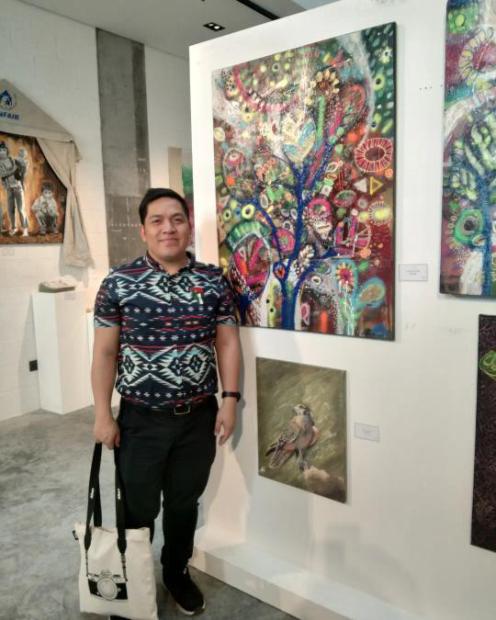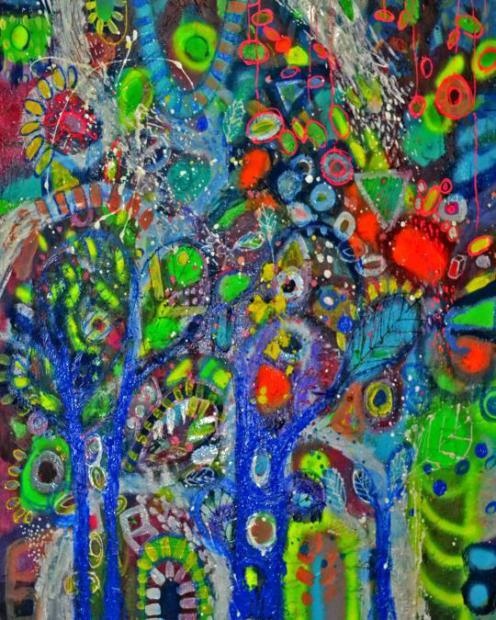 Jess (left) and his work at the event (right)
"It brings me immense pride and joy to be chosen as one of the local artists to join this group exhibition for the benefit of the people of Gaza," said the educator and visual artist known for his public murals, both regionally and internationally, and his vibrant collection of art.
"I donated two artworks, which were then purchased for BD200, with all the proceeds to be donated to the RHF," Jess added.
Bahrain Polytechnic student Elyas Ismail Rasti also featured an oil painting, which was sold for BD150.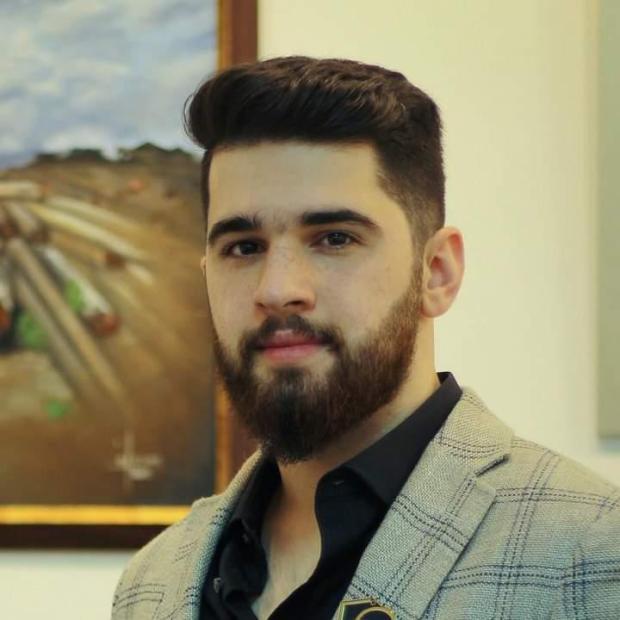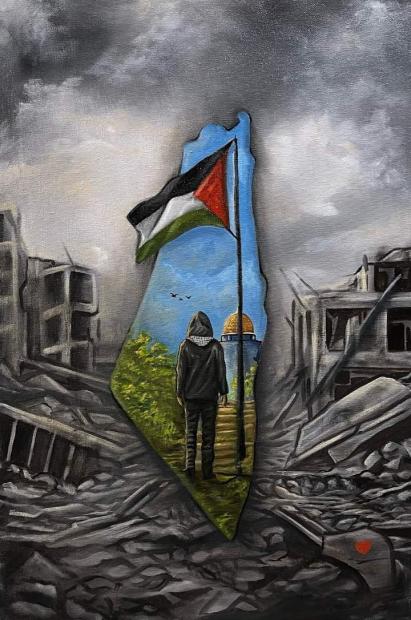 Elyas (left) and vision: Elyas's painting (right)
"I wanted to share a story, the same way art is used to document and share what is happening in the world and add a twist of hope and love using our creativity," said the 23-year-old Bahraini. "I have a vision and a mission to represent my culture and Bahrain to the world by creating the best I have in the most artistic way."
University of Bahrain student Alaa Alahmed from Isa Town, also shared one acrylic painting for BD150.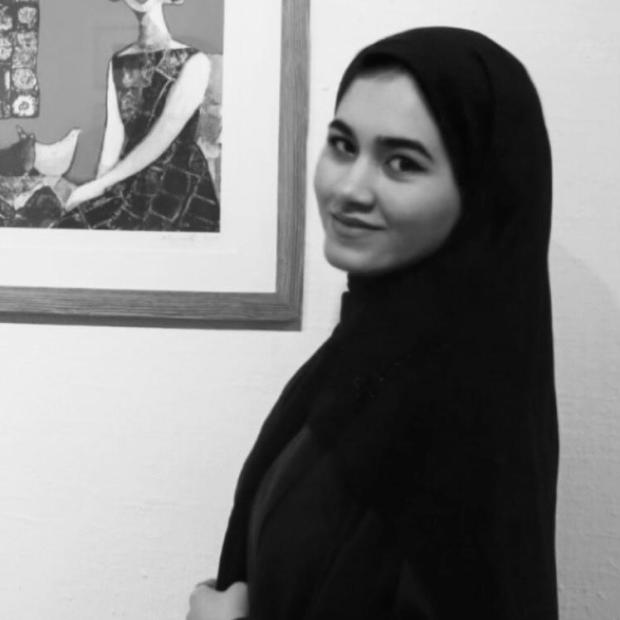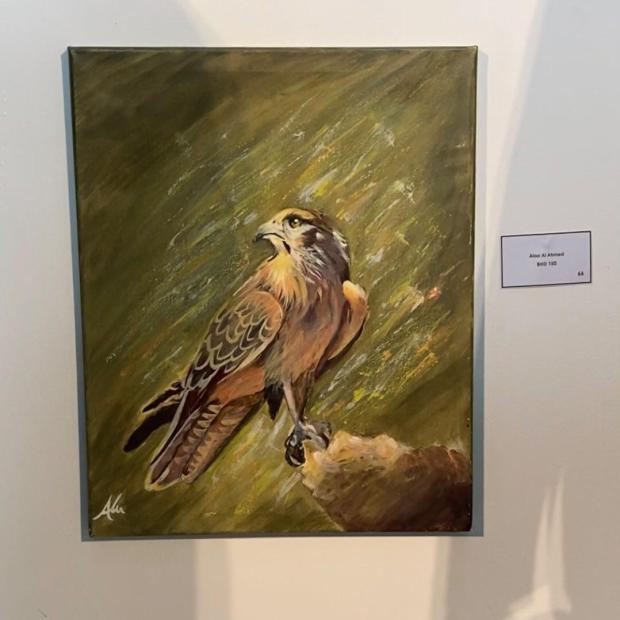 Alaa Alahmed (left) and Sharp: Alaa's falcon (right)
"My goal is to spread messages in an artistic way to support any event, because art is an important element in all societies," said the 20-year-old. "When I participate in a work or painting, I may contribute to conveying the voice of truth in a different way, and for this event, I wanted to help contribute and collect donations for the people of Gaza."
Meanwhile, self-taught artist Dr Amani Al Hajeri, a consultant in clinical genetics, donated two mixed-media paintings for the cause.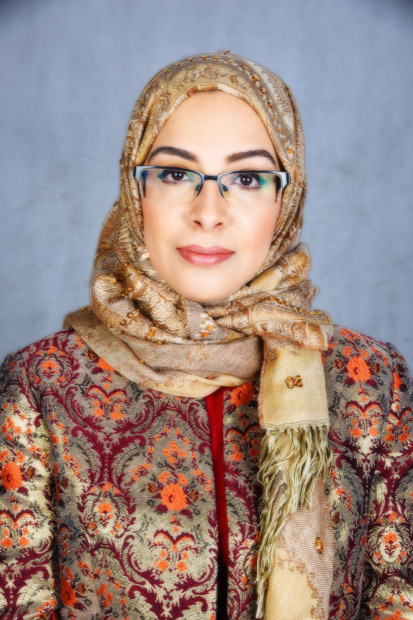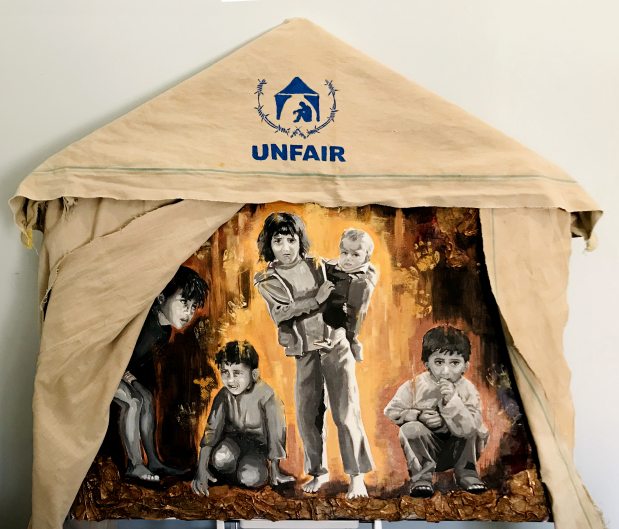 Dr Amani Al Hajeri (left) and her work (right)
"When I saw the invitation for artists to donate their pieces for the people in Palestine, I didn't hesitate," said the oil media artist, who also dabbles with watercolours, acrylic, and mixed media.
"I participated, because this is the least we can do for the people in Gaza, and to show how powerful art can be in raising awareness and motivating others," Dr Amani said.
Internationally-acclaimed photographer and philanthropist, Ishaq Madan, whose pictures have either inspired or raised funds for charitable causes, was at it again with his poignant print.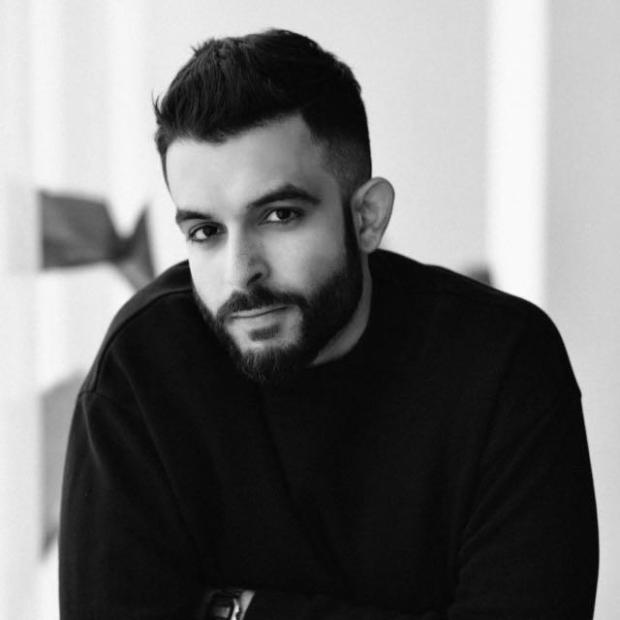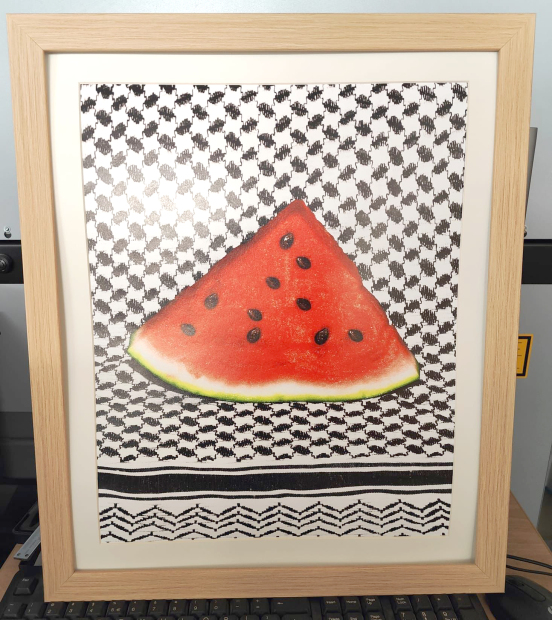 Ishaq Madan (left) and symbolic: Ishaq's print (right)
"I've been selling prints on my own to raise as much as I can for Palestine, and I participated in this group exhibition to help raise funds for the Gaza relief initiative, as well," said the 30-year-old Bahraini visual artist, who is also a curious adventurer, with his artwork inspired by still life renaissance paintings.
The picture that Ishaq has on display is of a mighty watermelon placed before the traditional Palestinian 'keffiyeh'. Israeli authorities have barred people carrying and displaying the Palestinian flag, and so they use the fruit to symbolise the flag.
For those wanting to collect pieces of art for a great cause, the exhibition is open from 9am to 10pm.
For details, follow @bahrainartssociety and @safeya.kanoo.hub on Instagram.