Hotshot Deena Rahman has secured her fifth Guinness World Record (GWR) by taking the most penalties ever in 24 hours, smashing the previous best recorded, as part of this year's Equal Playing Field's (EPF) challenge.
The Bahrain national team midfielder hammered home 7,876 penalties at the Kick Off Academy in Saar as supporters and a team of goalkeepers applauded her achievement.
The 37-year-old Tekkers Academy director said: "I'm absolutely delighted to have broken the record and what I have really enjoyed about the experience was that it was a real team effort.
"In a strange year with the pandemic, it was just nice to bring people together again whether physically at the event or virtually across the Equal Playing Field initiative platform around the world."
EPF is a grassroots, non-profit initiative that challenges gender inequality in sport and promotes sports development for girls and women globally.
The past record for the most penalty kicks taken by Vickrant Mahajan in 24 hours was 1,111.
Rahman faced 24 female goalkeepers – made up of members from the Tekkers players, their mums, the Arabian Celts Gaelic football team and friends – to clinch her title. And, although fatigue was a factor on the day, it didn't stop Rahman from achieving her goal.
Rahman started the challenge on November 17 at 7am and ending 24-hours later at 7am on November 18, Guinness World Record Day.
"On reflection, I guess it was difficult at times as the fatigue set in and my shots got weaker," explained the footballer and coach from Alquarraya.
"There was a hot period in the day which was a bit draining but thankfully it was cloudy for most of the daylight hours. I always knew I was going to complete the 24 hours and it was just a matter of setting small goals and ticking off each hour as it went by.
"The record enforces our message of 'opportunity, equality and respect, nothing more, nothing less' and for me, I always feel action speaks louder than words.
"If we talk to our players about hard work, mental strength, confidence, determination and resilience; this Guinness World Record encompasses those powerful aspects of life.
"I would like to say a massive 'thank you' to everyone who supported the event. I could not have done it without the amazing team we put together of witnesses, referees, goalkeepers, camera crew, Tekkers families popping in to support throughout the 24 hours and our sponsors, there was a huge effort behind the scenes and those people are the real heroes."
Rahman is no stranger to the GWR as she had recorded her first mention in 2017 for playing the highest altitude football match at the top of the 5,895m Mount Kilimanjaro. Then in 2018 she set her second world record by competing at the lowest altitude at the Dead Sea in Jordan. The lowest altitude game was an official Fifa regulated match held under the patronage of and in the presence of His Royal Highness Prince Ali bin Al Hussein of Jordan.
Her third and fourth records were in France in 2019 when she and other global soccer stars set a new achievement for having the most players and nationalities ever participating in an official match. The successes came alongside the 2019 Fifa Women's World Cup in France.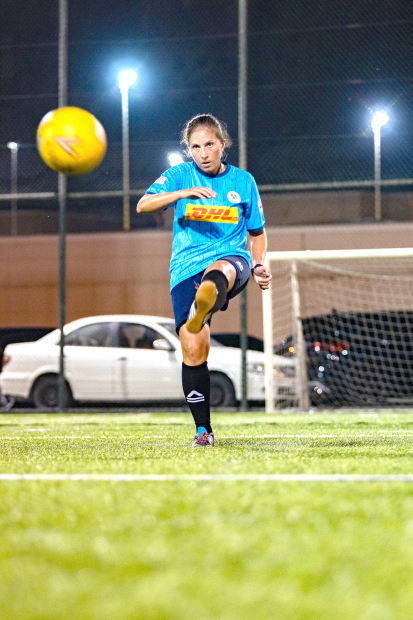 Rahman ... focused
EPF hosted the Festival of Football in an effort to 'bring the world to the World Cup'. It was hosted at the Olympic Lyonnaise Training Academy in Meyzieu just outside of Lyon and the main attraction was the attempt to break the record for the most number of players to appear in a 5-a-side football match. EPF broke the record with 822 participants across 69 consecutive hours of play.
As for the most nationalities to participate in an exhibition game; there were 114 participants, representing 53 nationalities, over a two hours and 44 minutes match.
These inspirational initiatives are part of EPF's aim at paving the way for equality in sport, pushing for equal representation and respect on the pitch and in life.
Laura Youngson, co-founder of EPF, said: "The Equal Playing Field team is so proud of Deena and her world record. Her endurance feat serves as an inspiration to girls across the world that any girl, anywhere can do anything."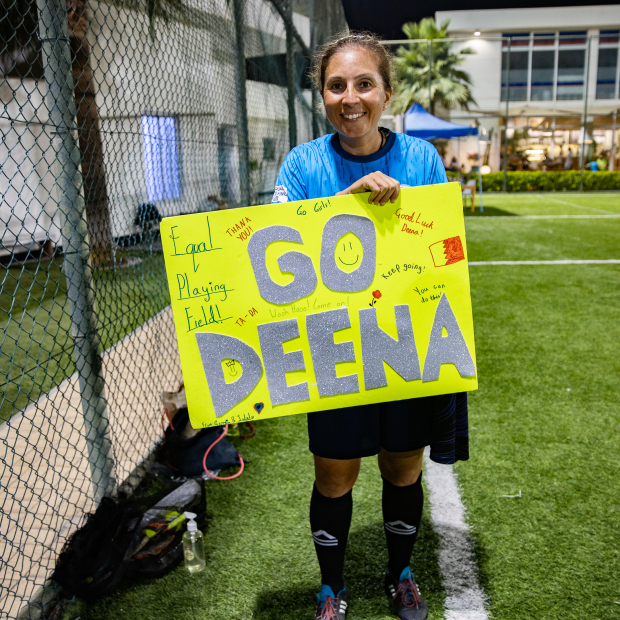 Rahman supporting Equal Playing Field
And while Rahman searches for her next football challenge, she will be focusing her efforts on the development of her coaching academy.
She said: "I don't know yet, 'yet' being the main word, what's next for me, but I'm sure my husband, Paul Shipwright, would appreciate me slowing down.
Shipwright and Rahman
"I will be seeking out my next adventure pretty soon but in the meantime, we are looking forward to continuing our Tekkers development, especially with our recent partnership with English Premiership team Southampton. It's great to be back with that and we are excited by some of the opportunities we will have for our players coming up."
Meanwhile, the title for notching the 'Most Penalties Taken in 24 Hours', is already in the bag, certificate framed and on the wall.
Rahman with her certification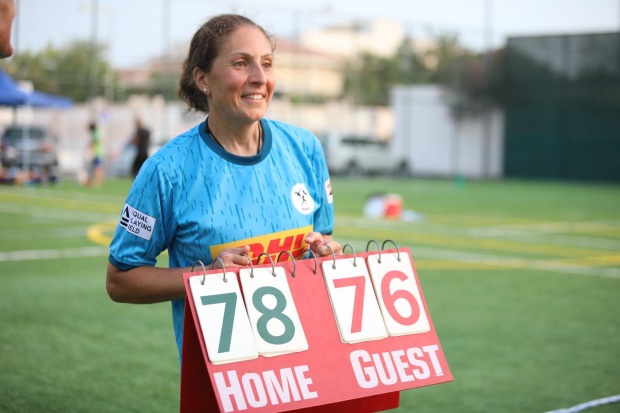 Rahman