LULU Hypermarket will today bid farewell to 2020 by welcoming new trends of 2021 with a top value 12-hour online shopping sale.
Shoppers can download the popular LuLu shopping app and browse the amazing aisles of the world's favourite hypermarket from the comfort of their homes.
Order online and LuLu will deliver the purchases to your doorstep. Shoppers wanting to pick last-minute bargains will have endless choices at LuLu where everything from top-brand electronics, smartphones, home appliances and essentials will have super marked-down prices.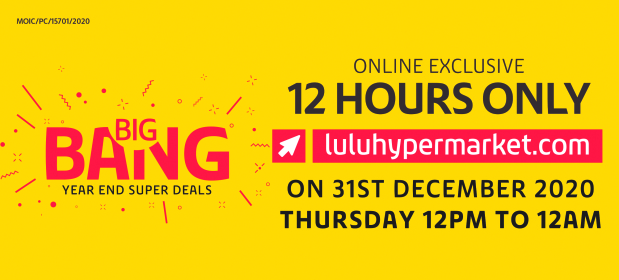 The 12-Hour Online Sale will begin at 12 noon today
The 12-Hour Online Sale will last from 12 noon today to 12am tomorrow.
There are several exclusive offers across all categories.
Log on to www.luluhypermarket.com and shop from the comfort of your home!