Qualification for the FIBA Under-18 Asian Championship 2022 will be on the line when Bahrain's junior basketball team take on a strong Qatar side today in the first semi-final of the FIBA Under-18 Asian Championship Gulf Basketball Association (GBA) Qualifier in Dubai.
The two finalists of the GBA Qualifier will book their spots in the Asian Championship which is scheduled to be held in Tehran, Iran, from August 21 to 28.
Bahrain will have their work cut out in today's game, however, as they seek to avenge their group-stage loss to Qatar last Sunday.
Tournament-favourites Qatar dominated that match in a comfortable 63-47 win, taking the lead in the first quarter and never allowing their opponents to come within touching distance despite an outstanding performance by Bahrain's young star, Naser Alanzoor, who, single-handedly, kept his side in the game scoring 20 points.
It was Alanzoor, also, who had proved instrumental in paving the way for Bahrain's consecutive victories in their first two games of the tournament against hosts UAE and Oman.
And he starred, again, in all three subsequent matches, although Bahrain's defeat against Qatar was followed by another against Kuwait on Tuesday before they lost a tight game to Saudi Arabia by just eight points on Wednesday.
But Bahrain's four points from their two wins – plus the one point accrued from each loss under FIBA tournament rules – meant that they finished the group stage with seven points and placed fourth on the points table, just ahead of the UAE, who had six points from their one win and four defeats in five games.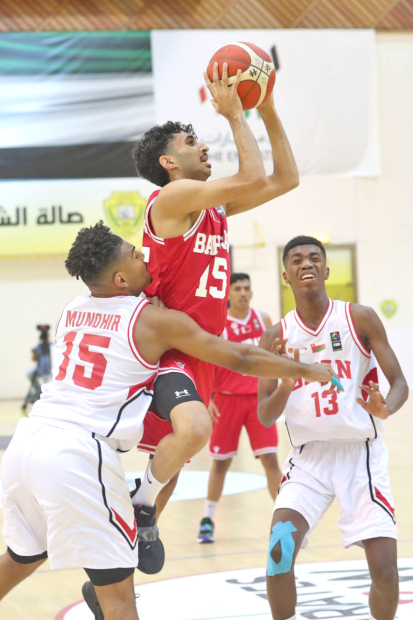 Bahrain's Alanzoor, centre, soars above two Oman players in the group-stage match last Saturday
Oman, the other side in the six-team tournament that did not make the cut for the semi-finals, failed to win even a single game, ending last on the table with five points from their five losses.
Qatar topped the table with ten points after winning all five of their games, while second-placed Saudi Arabia finished with nine points by winning four matches and losing one. Kuwait claimed the third spot, with eight points from three wins and two losses.
Meanwhile, Bahrain coach Mindaugas Janiska, a former Lithuanian professional, who has overseen the formation of a spirited, cohesive unit, will be hoping more of his players can emulate the consistent performances of their teammate, Alanzoor.
He will, especially, be looking at captain Abbas Albasri, who constitutes a formidable presence on court as well as Abbas Fadhel Khalaf, Mahdi Ali Musalli, Elias Yonis Abdulla, Hasan Ghareeb, Ali Jawad Hasan, Mohamed Ghazi Qamber and Omran Najaf, who have all shown glimpses of their potential through the tournament.
The Qataris will be banking on their captain, Mohammed Abbasher, as well as the brothers, Mohamed and Moustapha Ndao, to continue with their fine form and help propel their team into the final. Sultan Abuissa, Ghassan Hajar, Hamad Mousa and Ali Alnabawy are also key Qatar players Bahrain will need to be wary of.
The match starts at 3pm, Bahrain time.
The second semi-final between Saudi Arabia and Kuwait will start at 5.30pm.