THE Bahrain Tennis Club in Juffair will be brimming with action from today as the future stars of the tennis world vie for valuable ranking points, bragging rights and look to take the next big step into the glamorous and money-rich world of tennis.
The qualifying rounds of the ITF Juniors Tennis Championship will be held over the next two days beginning this morning at 9pm with 32 players in boys and girls sections vying for four automatic slots in the main draw.
The event is being held under the patronage of Deputy Prime Minister Shaikh Mohammed bin Mubarak Al Khalifa and sponsored by Ministry of Youth and Sports Affairs.
Ebrahim K Kanoo, Banagas and Bapco are the gold sponsors.
The main competition starts on Monday and concludes on Saturday with an official opening ceremony scheduled for 5.30pm on Monday.
The ITF juniors clash is the stepping stone for aspiring tennis players dreaming of Grand Slam glory and the money and glamour associated with it.
"This is a very popular tournament and we get hundreds of entries from all over the world. This year too, we have had an overwhelming response and are looking forward to another exciting tournament," said BTC manager and tournament co-ordinator Hamdi A Jawad.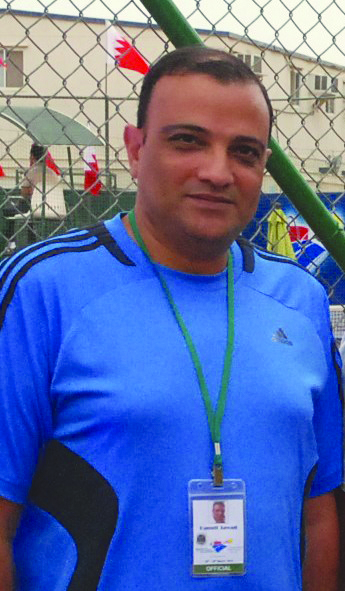 Jawad
These junior championships have seen the emergence of all time greats like Roger Federer and Grand Slam winners Andy Roddick, Pat Cash and Stefan Edberg, to name a few.
Among the women, Gabriela Sabatini and Elana Dementieva also came through the junior tournaments before reaching great heights.
By hosting this prestigious tournament since 2009, the BTC put Bahrain on the world tennis map and since then this event on the island is a top priority on the juniors' calendar, added Jawad.
"BTC has received tremendous feedback for hosting the tournament over the years, including the utmost appreciation of the ITF's higher-ranked officials, who have expressed their gratitude and support," said Jawad.
Among the top players competing this year in the boys' section include Daniel Webb and Alexander Knox Jones of Great Britain, Garv Bahl and Vansh Bhagtani of India, Boris Stastny of the Czech Republic, Mark Owen Endler of Germany and the French pair of Pablo Trochu and Victor Paganetti.
Defending champion Nina Danisova of Slovakia is the top draw in the girls section while some of the other top players in the fray include Charlotte Russell and Jessica Dhome-Casanova of Great Britain, Sarah Dev and Hrudaya Shah of India, Rosaleen Aioussef of Russia, Stefania Bojica of Romania and Hagar Ramadan and Carolin Fawzy from Egypt.
A number of Bahrain's leading young players are also in the fray with Mohammed Al Khan, Ali Al Sharif and Mohammed Al Shehabi having already received wild cards for the main draw.
In the girls section, Bahrain's Jaber Abdul A'al, Shadi Kallel and Faris Al Tubli have received wild cards for the qualifying draw.
For more information contact BTC on +973-17-729561 or e-mail [email protected]