Hrithik Roshan has been in the news recently for his feud with Kangana Ranaut.
This time it was with a professional photographer, Mumbai Mirror's Raju Shelar, who has been a professional news photographer for more than a decade;
just because Shelar wanted to take some exclusive pictures of the star while shooting for 'Mohenjo Daro' inside China Creek at Thane's Godhbunder Road last Sunday.
The shooting had begun at 11 am.

Hrithik was in a combat scene when a security guard spotted Shelar and confiscated his camera.
After the shoot, on his way to his car Hrithik reprimanded Shelar for clicking the pictures.
Hrithik's 'look' in Mohenjo Daro is all over social media so there was no reason for him to be so cautious.
He kept the camera in his car and asked Shelar to collect it from his house at 11 am the following day.

He kept Shelar waiting for five hours. He then wanted to speak to his boss, claiming that Mumbai Mirror must apologise.

He did not return the photographer's equipment even when Mirror threatened to file a police complaint and concluded saying 'I will think about it'.
Soon Mirror got in touch with Thane Police Commissioner Parambir Singh.
Shelar received a call asking him to come back and collect his camera, reported Mumbai Mirror.

Though the 'Mohenjo Daro' star had seized the camera for almost 24 hours he couldn't get rid of all the photos.
So here is his look: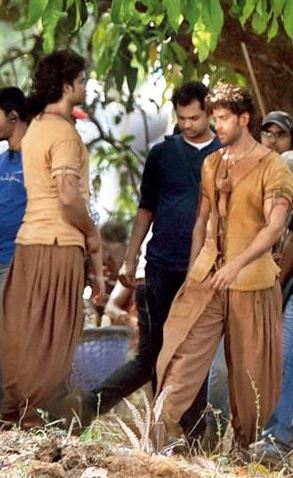 Image Courtesy: Mumbai Mirror