CAIRO: Bahrain today take on Croatia in their first match of the main round of the World Men's Handball Championship.
The Group 2 match will be held at 8pm at the Cairo Stadium Sports Hall.
The group also includes Denmark, Argentina, Japan and Qatar.
Bahrain qualified for the main round after ranking third in the preliminary round of Group D which also included Denmark, Congo and Argentina.
According to tournament rules, Bahrain will play Croatia, Qatar and Japan (Group C) only.
Led by Icelander coach Johan Holder, the national squad includes Hussein Al Sayyad, Ali Mirza, Mohammed Habib (backcourts), Mohammed Isa, Ali Eid (pivots), Ahmed Jalal, Hassan Al Samaheeji (wingers) and Mohammed Abdul Hussein (goal keeper).
Meanwhile, after a narrow defeat against Sweden in their last match in the preliminary round, Egypt are back on track, as the World Championship hosts defeated Russia 28-23 in their opening match of the main round.
Egypt are on four points while Russia suffered their first defeat in the competition and remain on three points.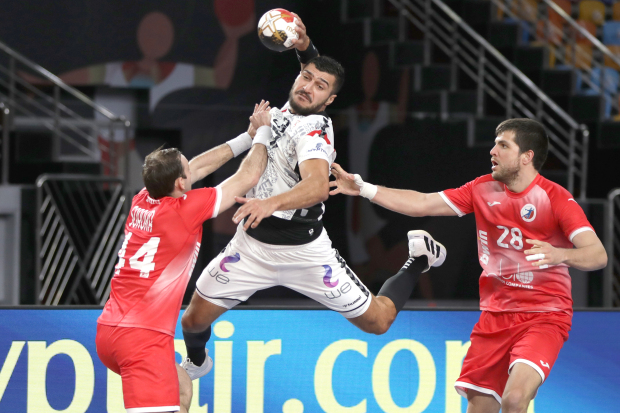 Action from the Egypt-Russia match
In another match, France did just enough against Algeria to grab two points and take their main round total to six, going top of their group.
For their opponents, hopes of a quarter-final place have all but disappeared, as they sit at the bottom on zero points.
France, 2017 IHF Men's World Champions, again showed some flaws but also showed their sheer determination and will to win as they overcame an Algerian side who led numerous times in a high-energy, emotional match-up in Giza. France won 29-26.
In the main round group IV opening match, Slovenia proved too strong for their Balkan rivals North Macedonia, winning 31-21.
The Slovenes are now on four points, while North Macedonia remain at the bottom of the table on zero points.
In other matches, Switzerland beat Iceland 20-18, Norway overcame Portugal 29-28 and Sweden drew with Belarus 26-26.