AN estimated 30 men in Bahrain are diagnosed with prostate cancer annually, making it the third highest risk factor for males.
According to 2020 figures by the International Agency for Research on Cancer Globocan, a subsidiary of the World Health Organisation, men are most risk of colorectal cancer followed by lung cancer.
According to the agency, of the 572 cases of cancer among men of all ages in Bahrain, 83 (14.5 per cent) were colorectal, followed by 65 (11.40pc) lung cancer and 51 (8.9pc) prostate cancer.
Pointing to the increased risk of prostate cancer – which represents almost 10pc of all tumours in men annually, experts called for more awareness drives and screening programmes.
They also urged men, especially those aged above 50, to be watchful.
The call came as the world marks International Men's Health Week, from today until Sunday, which is observed as Father's Day.
BDF Hospital surgery department head and urology consultant Dr Ayman Raees said the occasion was an opportunity to raise awareness about men's health, with special focus on prostate tumours.
"Prostate tumours represent the third highest incidence among men in Bahrain, accounting for 9.4pc of all men's tumors annually, with an estimated 30 new cases, according to the last study in 2014," he said.
The prostate is the walnut-sized gland in men, located just below the bladder and in front of the rectum, surrounding the urethra – the tube that carries urine out of the bladder. Prostate cancer is marked by an uncontrolled (malignant) growth of cells in the prostate gland.
According to medical journals, most of them are slow-growing and spreading, but sometimes they are faster in their growth and fiercer in their spread.
"There are proven genetic factors but periodic examinations help detect the disease early in case of infection," said Dr Raees.
Medics have stressed the importance of prostate-specific antigen (PSA) tests, as about 21pc of cases are diagnosed after reaching an advanced stage. PSA is a protein produced by normal and malignant cells of the prostate and the test measures its level in a man's blood, a raised level of which might indicate malignancy.
A study based in Salmaniya Medical Complex last June also concluded that prostate cancer was one of the most common cancers in Bahraini males, especially those aged above 65. The severity of the disease increases with age and if PSA serum levels are above the normal range.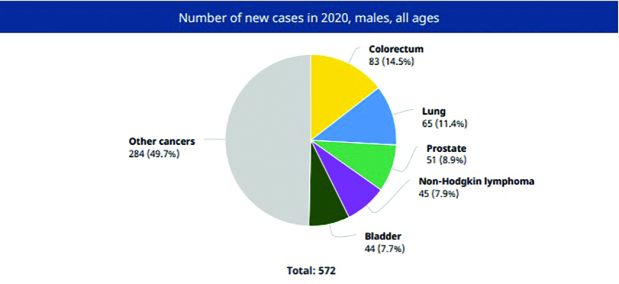 Globocan 2020 data on cancer among men
"This highlights the importance of early detection by screening programmes targeting men in the 50-75 age group," said the report published in the Bahrain Medical Bulletin.
The study analysed 42 cases diagnosed from January 2016 to May 2018. The report also added that the incidence which is among the leading cancer-related deaths worldwide was much lower in the Arab region.
It noted that "several speculations" were raised to explain this lower incidence including genetic causes, diet, lower testosterone levels and non-availability of PSA screening.
Meanwhile, American Mission Hospital urologist Dr Monish Cherian said that the incidence in Bahrain was "very low compared with other places like India".
"Statistics show that about 30pc of men aged above 50 are proven to have prostate cancer," he said.
"There are no immediate statistics available to prove the incidence of prostate cancer in Bahrain but being in Bahrain for 13 years I have seen the incidence very low compared with other places like India."
However, he noted that benign prostate, which is a non-cancerous enlargement of the prostate, was equally important as it led to urinary problems in men aged above 50.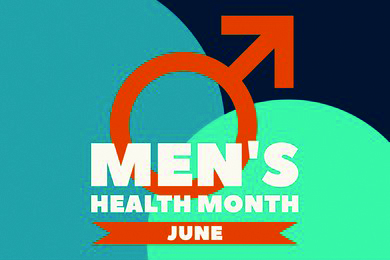 Experts caution men on prostate cancer as world marks International Men's Health Week starting today
"All men with prostate symptoms should have an ultrasound done, followed by a PSA test, and a digital rectal examination to see the consistency and determine the presence of nodules in the prostate."
Other factors that could lead to prostate cancer are obesity and high-fat meals.
Shifa Al Jazeera Medical Centre specialist general surgeon Dr Kamala Kannan Koteeswaran noted that 5pc of all prostate cancers are hereditary.
"Symptoms in advanced stage of prostate cancer include difficulty in passing urine, decreased force in the stream of urine, blood in urine, blood in semen, bone pain, weight loss and erectile dysfunction."