GULF WEEKLY: Ahead of the North American theatrical release of two of the most anticipated movies of the year, the Internet has been drowning in an ocean of memes and friendly barbs, that is now being called 'Barbenheimer'.
The Internet phenomenon is a portmanteau of Barbie and Oppenheimer – two diametrically opposed movies that are set to be released in multiple countries on the same day – July 21.
Fan-made posters for the 'Barbenheimer' phenomenon have been circulating online as have jokes about watching the two films as a double feature – Barbie, a fantasy comedy about the fashion doll Barbie and Oppenheimer, a Christopher Nolan-directed biographical thriller about physicist J Robert Oppenheimer, the scientific director of the Manhattan Project, which developed the first nuclear weapons during the second World War.
Etsy designers have started selling merchandise based on the phenomenon, with two Dallas video editors making $14,400 selling Barbenheimer shirts.
Conspiracy theorists believe the move was Warner Bros' intentional jab at Christopher Nolan by going after his favourite mid-July film release slot, as a result of the celebrated director calling the studio's HBO Max "the worst streaming service."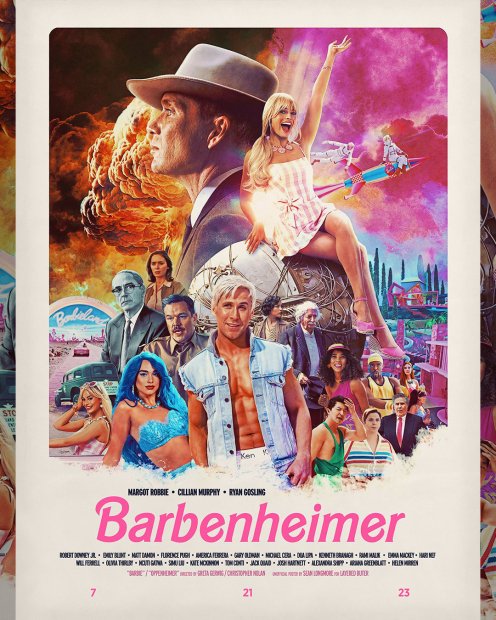 Others believe that it is an instance of counterprogramming, where two tonally opposite films are released on the same day to appeal to multiple groups.
The release date of Barbie and Oppenheimer drew parallels to another Christopher Nolan-directed film The Dark Knight, which had started screening on the same date as Mamma Mia!.
Although Barbie has been postponed in Bahrain for the time being, Oppenheimer is set to be released in theatres across the kingdom this weekend.
Comparing Barbie and Oppenheimer, a pop culture magazine quipped: "One of these films has a main character grappling with the concept of death. The other is Oppenheimer."