GULFWEEKLY: Determined Amal Salem Almalood, who has been spreading awareness about autism and her son, Khalid's, condition through sport, is now conquering the kingdom's seas alongside the Bahrain National Women's Rowing team.
The 40-year-old Interior Ministry civil servant recently participated in Bahrain's Modern Rowing Race, held at Bahrain Bay under the patronage of President of Bahrain Maritime Sports Association Shaikh Khalifa bin Abdullah Al Khalifa, and swept two wins in two categories – the coastal competition and kayak race, which were both firsts on the island.
The race included female and male rowers.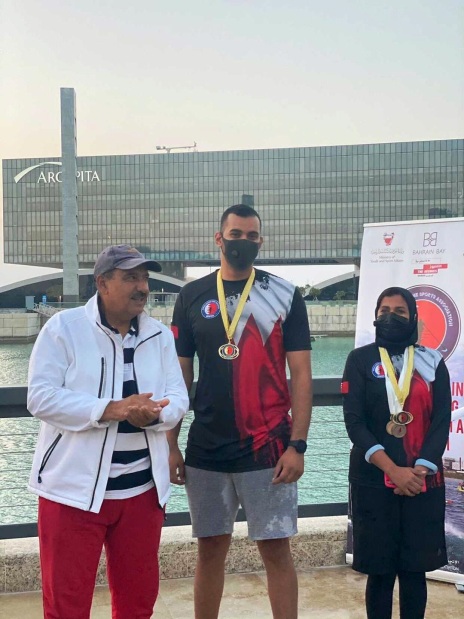 A proud Qambar and Almalood after recieving their medals from Shaikh Khalifa
"I'm so excited for these victories," said the 2020 Spartan Arabia band ambassador who competes in marathons and Spartan races. "I had won first place in the coastal women's category and another first place in the mixed coastal with Mohammed Qambar.
"I am truly proud of this achievement and my goal is to raise the name of the kingdom and, to hopefully, be a role model for Bahraini women, showing them that nothing is impossible, no matter the difficulties."
Almalood is no stranger to victory as she had notched medals in the single and double categories last year but indoor – on a rowing machine.
"This year was my first time rowing in the sea and it's the first time in my life to ever participate in such a distinctive sport," she explained.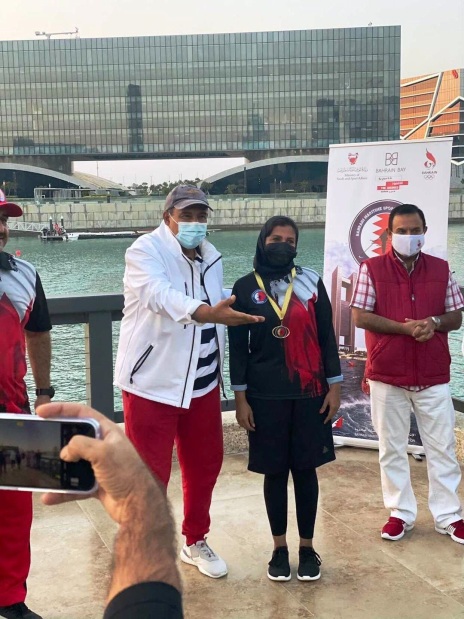 Shaikh Khalifa with Almalood
Coastal and offshore rowing is performed at sea and the boats are wider and more robust than those used on rivers and lakes.
It combines fitness with exploration and shares similarities with mountain biking in the sense that it adds elements of adventure and unpredictability while maintaining precesion and technique of Olympic level sculling.
Meanwhile, kayaking is a low-to-the-water, canoe-like boat in which the paddler sits facing forward, legs in front, using a double-bladed paddle to pull front-to-back on one side and then the other in rotation.
Before taking to the sea, Almalood trained indoors on a rowing machine and said that CrossFit had also helped her prepare.
"I do CrossFit an hour a day along with running," said Almalood. "It was my CrossFit coach Khalid who encouraged me to participate in an indoor rowing competition and I was hooked.
"I have always enjoyed the rowing machine. I then met with Captain Isa AlGawi, the head of the Bahrain Rowing Committee, in February last year and joined the Bahrain National Women's team after that."
Aside from Almalood, the national squad also includes Sara Shabib, Noora Alshamlan, Khawla Aldosari, Ameera Alalawi, Mariam Isa, Jenan Mahdi, Eman Shakeeb and Sahar Bastaki.
"I'm proud of these amazing women," said Almalood. "We are all one big family that helps and cares for one another.
"I'm also appreciative of Captain Isa and our coaches Ahmed Sabt, Emad Abdulla and Shiraz Khan.
"It took us ladies two months to learn how to row in the sea and we couldn't have done it without the supervision of our captain and coaches."
In the meantime, Almalood is dedicating this victory to her Khalid, 21, who was diagnosed with autism at the age of four.
Autism Spectrum Disorder (ASD) is a developmental disorder featuring a broad range of conditions characterised by challenges with social skills, repetitive behaviours, speech and nonverbal communication.
She added: "As a mother of an autistic hero, I will continue to spread awareness about autism through sport. He is the one who encouraged me to reach these achievements and to serve Bahrain and the society."
For details on future competitions and the Bahrain National Women's Rowing team follow @amal9980hope and @bh.rowing on Instagram.