Othman Al Awadhi of Bahrain Victorious made a strong start in the opening round of the new endurance season, winning the 100km international qualifying race.
Othman crossed the finish line in three hours, 20 minutes and 18 seconds.
His teammate Isa Al Enzy came second in three hours, 24 minutes and seven seconds, while Abdulaziz Al Rumaihi of Al Zaeem team finished third in three hours, 33 minutes and 35 seconds.
Al Eid Stable jockey Yusuf Al Thawadi won the 80km local qualifying race, outclassing Awal Stable's Fatima Ali Juma and Sama Masfaka from the USA.
His Majesty King Hamad's representative for humanitarian work and youth affairs and Bahrain Royal Equestrian and Endurance Federation (Breef) honorary president Shaikh Nasser bin Hamad Al Khalifa was present at the Bahrain International Endurance Village to witness the races.
Shaikh Nasser praised the spirit of competiveness which augurs well for the upcoming endurance championships.
He stressed the importance of the local championships which, he said, represent a gateway to take part in international competitions and achieve good results.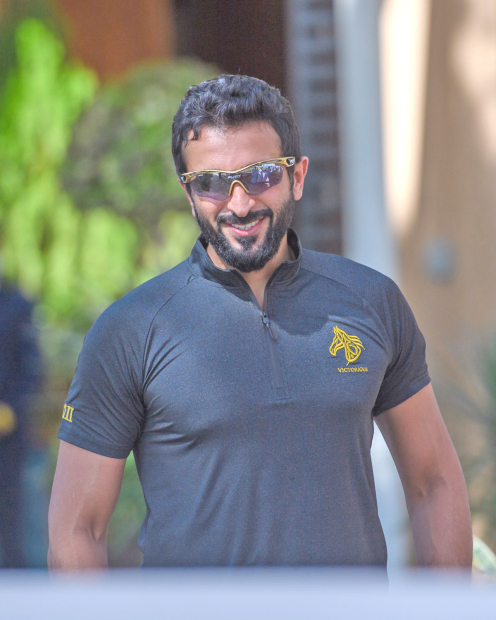 Shaikh Nasser at the Bahrain International Endurance Village
He said the opening races represent a good opportunity for all stables to assess the potential and fitness of their horses, ahead of upcoming championships.
Bahrain's endurance season represents a benchmark for the world thanks to the high level it has reached, he said.
Shaikh Nasser praised the performances of all the participants, underlining his keenness to continue supporting the stables to meet the developmental vision.
He commended Breef's efforts under the leadership of Shaikh Isa bin Abdulla Al Khalifa and all committees involved in the good organisation.
Three jockeys from outside Bahrain took part in the 80km race – Kuwaiti Mohammed Falah Al Ajmi, Omani Mohammed Al Khateri and American Sama Masfaka.