BAHRAINI women athletes claimed eight medals yesterday - four gold, three silver and one bronze - on the first day of athletics competition in the Fifth Arab Women Clubs Games in Sharjah.
The women athletes of Al Ahli Athletics Club boosted Bahrain's medal tally to 24 - nine gold, seven silver and eight bronze.
Hajer Al Omairii won gold in the 100-metre sprint while her teammate Marwa Al Ajooz clinched the silver.
In the 400-metre race, Iman Isa bagged gold and her compatriot Salha Jassim silver.
Bahrain's Marta Hirpato won the women's 1500-metre title finishing ahead of her compatriot Manal Al Bahrawi, who clinched silver.
In the 5000-metre race, the title went to Bonito Edwa while Mona Jihad claimed bronze in the long jump competition.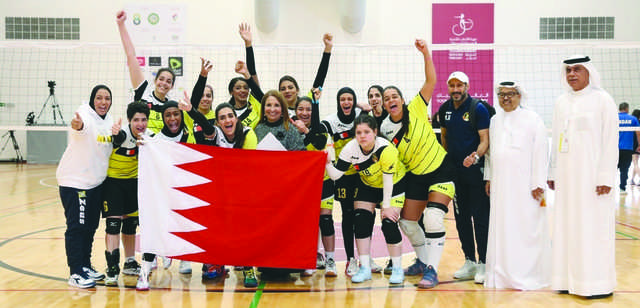 Bahrain volleyball team members celebrate after winning their match yesterday
Head of Al Ahli Athletics Club delegation Nasser Mohammed expressed delight over the team's performance and thanked Bahrain delegation head Shaikha Hayat bint Abdulaziz for her support and encouragement.
A'ali table tennis singles team bowed out of the championship yesterday with Mariam Abdulla Al A'ali losing to Kuwaiti Al Fatat's Marian Sulaiman Baroon 4-3. Her sister Fatima lost to Algerian player Malissa Nassiri 4-1.
Al Ahli volleyball team sealed their first victory defeating Syria's Taldra Club 26-28, 25-18, 25-18, 25-18.
With this victory, Al Ahli secured a spot in the second round and will take on Tunisia's Sfax Club tomorrow at 11 am Bahrain time.
Bahrain Shooting Club shooters will today take part in the 25-metre rifle competition.
The Bahrain team consists of Mooza Abdulraheem Bucheeri, Mariam Al Qassimi, Badria Al Atawi and Aisha Al Breeki.
Bahrain's Al Hala Club will take part in the fencing competition today.