GULF WEEKLY: Car connoisseurs and their top-notch wheels have a new best friend, with the opening of the first-ever overseas branch of Topaz Detailing, launched recently by Al Haddad Motors.
Established in the UK, Topaz Detailing is the world's most exclusive detailing and paint protection film (PPF) specialist, handling the largest volume of supercars anywhere in the world.
"At Topaz, we offer a total car care solution package, incorporating everything from enhancement and protection through to maintenance – the perfect marriage between science and art," Hadi Khlaif, brand manager at the new facility, told GulfWeekly.
"After one or two years, cars typically start losing their shine. Getting your car detailed regularly keeps that shine, and also protects its paint. Our state-of-the-art PPF protects the car. Our team takes care of day-to-day wear and tear to the exterior body of the car, whether it's small scratches, dents or stone chips."
The new facility features state-of-the-art equipment and some of the most skilled specialists in the entire GCC region, trained both on site in Bahrain and at the Topaz headquarters in London, UK.
The team aims to help car owners maintain and enhance the appearance of their cars, so they always look as good as they did in the showroom.
"Topaz has worked hard to be the market leaders in the detailing industry," Hadi added.
"Our new facility is carefully designed, with every section serving a unique purpose. We have a temperature-controlled environment to get the best from our products, complemented by airtight capsules for car storage overnight so that dust particles don't compromise our work.
"We ensure the most accurate level paint inspection using built-in variable lighting and use softened deionised water to achieve a better finish.
"On top of the best products, equipment and facility, our team's skill and experience are second to none."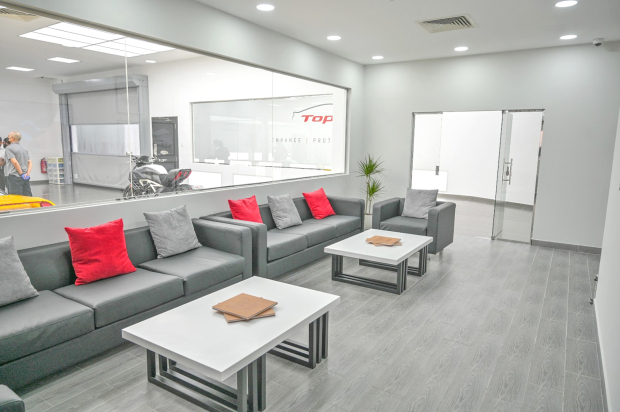 Customer waiting area at the new Topaz facility
Customer experience starts at the reception where they can talk to advisors who can guide them in picking the best level of service.
Topaz offers five levels of detailing and protection service, depending on each customer's unique needs.
For each level, the team makes sure to use methods that not only make the car look fantastic but also extend its life.
From a two-bucket method which prevents scratches to the bodywork to using steam to clean underneath the car to prevent damage to electronics, and much more, the Topaz team is world-renowned for its attention to detail.
"We may spend up to two weeks detailing a car," Hadi explained.
"Some people wonder why detailing is necessary since new vehicles are polished by car manufacturers. But we start from that basic level and by focusing specifically on the body and protection, we improve the sealing, sometimes making the car look even better than when it was just bought."
The facility offers a five-year warranty on its detailing services, which start from BD80.
The showroom has been designed in collaboration between Topaz UK and Al Haddad Motors Management, incorporating additional features based on customers in Bahrain and the GCC Market. The facility development was completed by Al Haddad Construction.
Al Haddad Construction recently handed over the facility to Al Haddad Board Members during the unveiling of the Topaz showroom in Tubli.
"Al Haddad Motors is very proud to be the first ever Topaz Premium Detailing branch outside of the UK, and to be offering not only the Bahrain clientele but also clients from all over the region top quality total car care solutions."
Warren Hudson, general manager of Al Haddad Motors, said, "Almost all supercar owners and fans are familiar with the Topaz brand. It has been a top contender in the industry for several years and is always introducing new technologies and techniques in the vehicle detailing world.
"Topaz Bahrain will now also offer such products and services."
For more information, visit www.topazdetailing.com or call 17782210.