Bahrain's first-ever professional cyclist, Ahmed Madan, will be making his race debut today in the challenging 'Tour de Hongrie' across mountainous terrain in Central Europe, writes Abu George.
He re-joined his teammates after a short Ramadan spell back home in the kingdom in readiness for the start of the challenge on the southern bank of Lake Balaton in the picturesque town of Siofok.
"I'm determined to do the very best I can and support my teammates," he said. "I'll not let them down or my country. I trained hard and I've trained well.
"I have received so much support during my Ramadan trip home. I would like to thank everyone. Now for the race – I've so excited!"
Madan will be representing Team Bahrain Victorious, founded by Shaikh Nasser bin Hamad Al Khalifa, His Majesty King Hamad's representative for humanitarian work and youth affairs and Supreme Council for Youth and Sport chairman.
While the excitement surrounding his first-ever professional stage is palpable, it will be a relatively flat 173km route - with the exception of one Category 3 climb after 50km - to Kaposvar.
Madan expressed most excitement for the 204km Queen Fourth Stage with more than 2,000 vertical metres to be climbed and featuring a double ascent of Hungary's highest mountain, Kekes.
The popular Bahraini sporting hero has been preparing well, having spent a month sleeping at 1,500m altitude in Andorra. Training has been tough. Opening the door to the apartment block, his day often started with a 20km descent of the mountain.
This may sound fun for some, yet snow on the road, hidden ice patches, potholes and biting temperatures painted a different picture in these most beautiful mountain surroundings.
Of course, having reached the bottom he then had to turn around and come straight back up again. He admits to having had to get used to carrying and wearing several jackets and gloves.
The most challenging training involves tackling the 'Chicken Run'. This was a 12km climb at an average gradient of 10 per cent – five times steeper than Al Areen and an awful lot longer.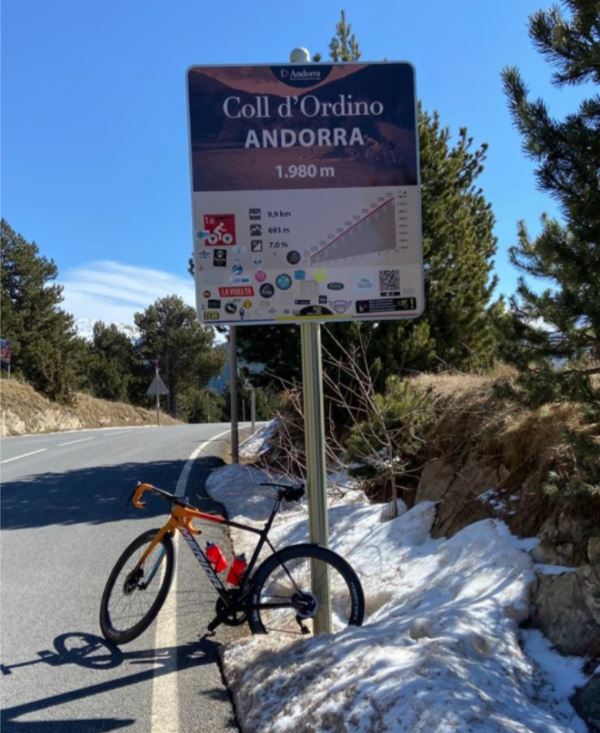 On arrival in Andorra, Madan admits to being stunned by the beauty of the mountain scenery and fascinated by the snow, taking time to soak up every new experience. Initially staying in the apartment of his coach, Aritz Arberas, he was not tempted to borrow the ski equipment after his family reminded him of a broken leg sustained by a cousin on a ski trip.
There were some lessons he has had to learn the hard way. In Girona one morning he was determined to follow his coach's schedule and get out on the road early. Looking out of the window and checking the forecast his colleague declined to join, leaving Madan to cycle alone.
An hour-and-a-half into the ride the rain had increased and the temperature dropped, exacerbated by coastal humidity. Shaking violently from the cold he was forced to concede defeat and seek refuge.
Unfortunately due to Covid-19 restrictions he was unable to find shelter. Eventually, while waiting for a friend to collect him, he managed to find a small kebab shop - reminding him of 'home' this familiar shawarma-like sustenance provided warmth for the body and soul!
Unwavering support from his team is a constant theme in each of the three locations he has trained. The coaches and sporting directors are in regular contact and help with the logistics of settling in each town, with assistance ranging from finding accommodation and telecommunications to sourcing halal food.
In Girona one of the team mechanics, David, was particularly supportive. Santiago Buitrago, teammate and roommate, was particularly welcoming and he has enjoyed training together.
He also has a new turbo trainer so that he does not feel compelled to train (and freeze) outside should the weather turn for the worse!
He called his mother, Shukria, every morning and again in the evening when she is surrounded by family - father, Abdul Ghani, and his brothers - while he chats regularly to friends, although admits his calls have lessened as the training intensified.
His mum has been particularly helpful in remotely assisting Madan in cooking some of his favourite Bahraini dishes - mendi and machbous - although some of the ingredients have been challenging to find, especially in Andorra.
In addition to calling home regularly he recovered from his exertions by reading the Quran or watching some of the European cycling races.
He has enjoyed spending time with them when he returned to Bahrain. He confesses to having enjoyed several Ramadan buffets at home before settling back into his preparations for Hungary.
While it is impossible to replicate the hill climbs in Bahrain, his training and food was deliberately tapered to ensure he remained in peak condition ahead of today's race. Arriving at immigration the day before
Ramadan he managed to shed 2kg and was working towards his target 'race-weight' of 64kg.
Fasting meant that Madan trained at night. Conscious of the dangers of cycling on Bahrain's roads he wisely invested in several very bright lights.
Life has changed for him in Bahrain. He is now recognised regularly and gets bombarded with requests to conduct media interviews.
Yet he remembers those that have helped him on the way to sporting recognition, not just his former coaches and colleagues.
Madan has returned to visit his old school twice, the Nasser Vocational Training Centre, determined to show his gratitude to former teachers.
He credits them for shaping him into who he is, focusing not just on teaching physics and chemistry but also on developing a broader appreciation of being a valuable member of society and now, a role model.
A keen F1 fan he has enjoyed family gatherings around the TV watching recent races and particularly enjoyed the excitement of Imola. However, he has discovered a new love – watches!
After winning a race in Bahrain last year he treated himself to a new one and has his eye on several new acquisitions – if he achieves his goals!
The upside is that it is easier to collect watches than his other passion, sports cars, and certainly more convenient to take them around Europe with him.
Team Bahrain Victorious is taking a strong team to Hungary that combines youth with experience. Madan will be joined by Phil Bauhaus, Santiago Buitrago Sanchez, Heinrich Haussler, Marcel Sieberg and Fred Wright. With this being his first-ever professional race he is looking to learn yet contribute as much to the team cause as possible, supporting more experienced riders in their pursuit of victories.
A regret that Madan does have about returning to Europe is that he will miss his brother, Haider's forthcoming wedding. However, with the wonders of modern technology he will be watching the event live.
There will be many more tuning in from Bahrain to watch Madan's progress throughout the race.
• Catch up every day with Madan on GDNonline.