When Australia ultimately triumphed 5-4 on penalties late last night over Peru in their intercontinental play-off for a place in the World Cup finals in Qatar later this year, an Australian fan in Bahrain exploded with joy.
"This game was absolutely crazy," Shannon Crockett, who had been watching the game in a popular sports lounge in Amwaj, told the GDN. "Nothing much happened for the first 90 minutes of the game, the game went into extra time and then, these penalties! Unbelievable!"
Crockett, 43, who runs an event management company in the kingdom and hosts a popular show on Radio Bahrain, has been based in Bahrain for six years. Although, by his own admission, he is not as passionate a football fan as he is of the Australian Rules variety, he never misses any game which features the national team.
"As Australians, we support our country in any sport in the world," he said, happily. "We're a very proud people and support our national teams as much as we can."
For a Peruvian citizen and his sister, however, Peru's unexpected defeat piled even more misery on the siblings who had already endured a rough day after their much-awaited trip to see the game ended in Kuwait over immigration issues.
Gustavo Conde, 41, and his sister, Gloria, 43, eventually ended up watching most of the game at Kuwait Airport.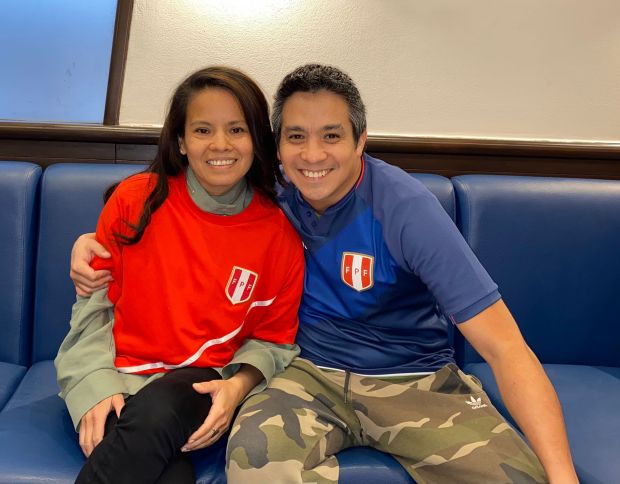 Peruvian Conde and Gloria, at Kuwait Airport where they watched part of the match
"The day was doubly heart-breaking for us," Conde, an applications engineer with a petroleum company, told the GDN by telephone while mid-flight.
"This is football," he said. "One team wins. The other loses. Today was not our day. Another day, it will be."
Meanwhile, back in Amwaj, Crocket was still ecstatic.
"I didn't want this game to go to penalties," he laughed. "But, anyway, this is a big moment! Australia have made it to their fifth World Cup in a row. This is going to be some tournament for us Aussie supporters!"