Gulf Weekly: AFTER being away from the podium for more than five years, endurance racer Manal Fakhrawi hopped back in the saddle to gallop her way to victory in the King Endurance Cup ... and she hopes her win will inspire more athletes to never give up.
The win means the world to the new mum, who spent the past year training rigorously for the four-day, 160km competition held at Bahrain International Endurance Village.
"Winning the King's Cup means the world to me as it's the most important race in the kingdom," said Fakhrawi who races for Team Victorious, led by Shaikh Nasser bin Hamad Al Khalifa, His Majesty King Hamad's representative for humanitarian work and youth affairs, Supreme Council for Youth and Sport chairman, and Bahrain Royal Equestrian and Endurance Federation honorary president.
"I worked hard last year to make a comeback after being blessed with a baby girl. It was a challenge, I am glad all that hard work paid off."
Fakhrawi, who has been competing for more than 20 years, clinched first place in 6 hours and 31 minutes. The race is divided into four or five loops. After every loop, riders return to the village in Sakhir for vet checks for horses. Minutes later they move on to the next loop.
"The horse's wellbeing is of great importance. You may have crossed the finish line, however you are announced a winner only when the horse passes the checks.
"If not, you are eliminated.
"I love horses and when I ride I try to listen to their body language which helps in understanding them better. We thus become a team."
Fakhrawi thanked her supporters for helping her achieve her dream .. her family who has always believed in her and her friends for encouraging her throughout her journey.
"I am lucky to have a support system so I would like to extend that luck and provide my support to all those aspiring athletes."
Fakhrawi also manages and rides for her own Fakhrawi Stables where she trains equine enthusiasts to ride with passion.
"As a teacher, I always tell them to ride with feelings rather than strength as regardless of their size, horses are gentle and sensitive animals," she said.
The young mum rides every day to maintain her physical strength.
"You basically never stop training," she said.
"You also have to maintain a certain weight so choosing any other exercise can be tricky."
The season in Bahrain starts from October until April.
"We prepare well in advance and after the season ends, we prepare for Europe.
"I hope to make a difference in this sport and help encourage future riders and athletes."
It was her love for animals that prompted Fakhrawi to take up racing at a young age. "I grew up with different kinds of pets and farm animals.
"My horse riding career started off as a family day out at the stables, where my sisters and cousins would enjoy riding and I would accompany them and watch them ride.
"Soon I fell in love with horses and started riding lessons.
"Years later, I decided to enter competitions."
Her first discipline was show jumping and she started competing at the age of 10.
In 1999, endurance races were introduced in Bahrain.
"It became the talk of the town and every stable was interested in taking part. So with the support of my family and trainer, I too decided to join," Fakhrawi said.
"I was only 13 when I raced for the first time and I was the youngest girl, riding and competing alongside men.
"Soon after, I was chosen to be part of the Royal Endurance Team."
Her goal is to represent the kingdom and compete in world championships.
"I was lucky to have participated in the Juniors World Championships in 2005 so I would like to qualify as a senior ... amongst the world's best."
For details, follow @m_fakhrawi on Instagram.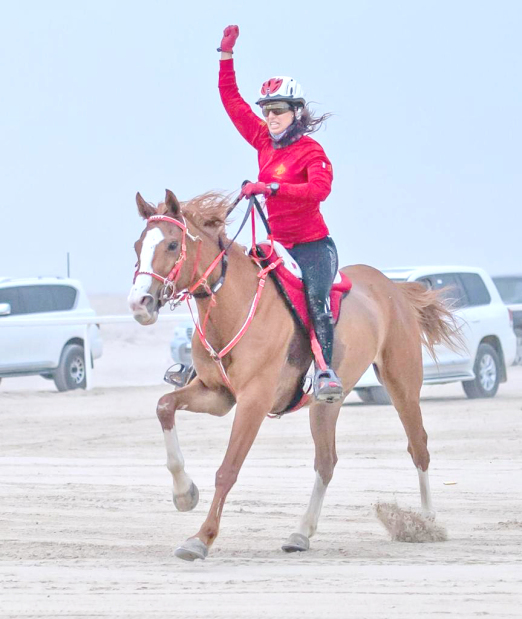 A proud Fakhrawi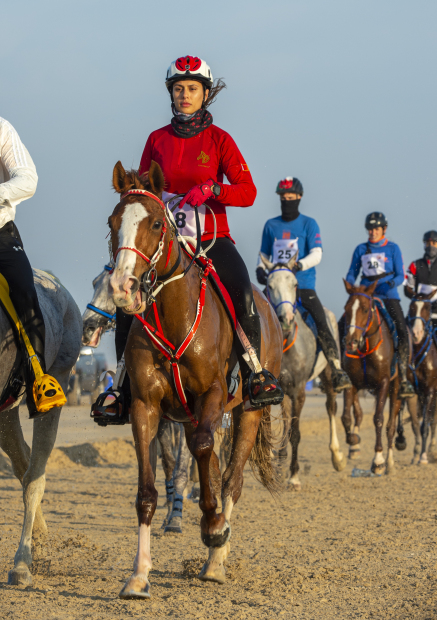 Fakhrawi in action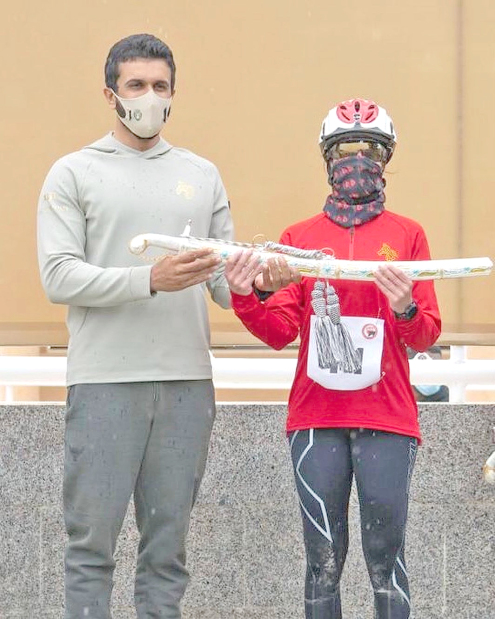 Shaikh Nasser and Fakhrawi